Automatically Post Your Substack Newsletter or RSS Feed to Your Social Media

Ayrshare allows you to connect any RSS feed to your important social media accounts. This capability also lets you connect your Substack account to Ayrshare. Now every time you publish, your posts are automatically sent and published on your social media accounts. If you are looking for a solution to auto post rss, give this a try.
Simply add the URL of your Substack page or RSS Feed and leave the rest to Ayrshare. Ayrshare will automatically share your posts on your social media accounts.  Now you no longer have to manually copy and paste your titles, summaries, links, etc to each of the social media sites.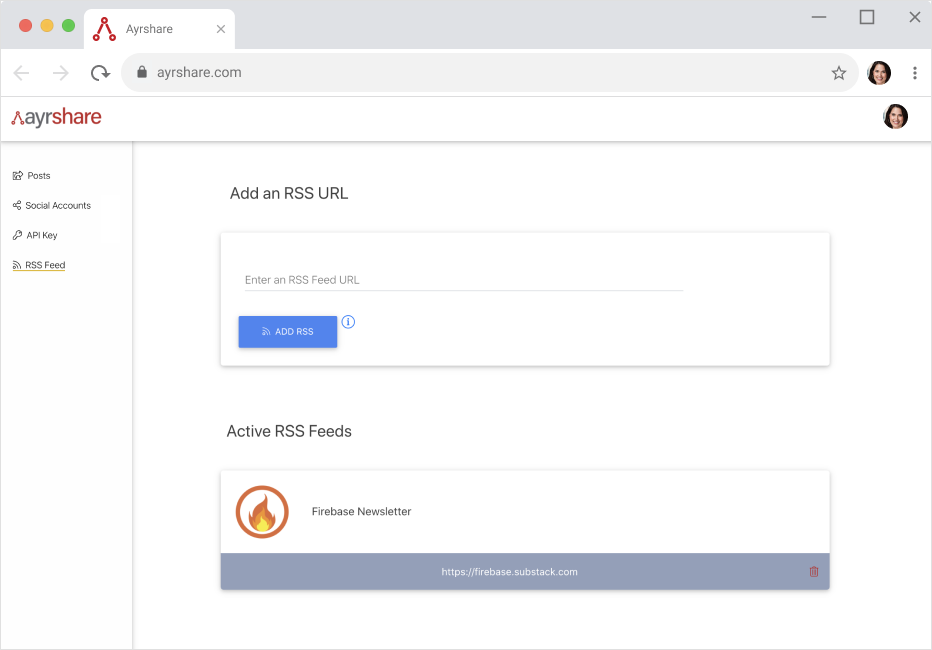 Paste in your substack or rss feed URL
How To Find Your RSS Feed
Most of the popular blogging platforms have the rss feeds easily accessible. On Substack, you can find your rss feed at https://your.substackname.com/feed. On WordPress, the rss feed for the blog posts is at https://your.sitename.com/feed. On YouTube, you can find the rss feed at https://www.youtube.com/feeds/videos.xml?channel_id=abc123, where you replace the abc123 with your channel ID.
We also offer a handy RSS feed finder that works on most sites. You can copy a blog or content website's URL and enter it into our RSS Finder.