The Free Video Metadata Inspector
The Ayrshare Free Video Metadata Inspector is a simple web tool for extracting metadata from multimedia streams and codecs based on ffprobe, which is part of the ffmpeg package. When used to analyze a video file URL, it can provide valuable information about the file's characteristics, such as its resolution, frame rate, bit rate, and codecs. You might even want to get an audio file's metadata.
This information can be useful in a variety of contexts, such as:
Quality assessment: By examining the metadata of a video file, you can determine its technical quality and assess whether it meets certain standards or requirements. For example, if you need to deliver a video with a specific resolution or frame rate, you can use the free video inspector to verify that the file meets those specifications.
Compatibility testing: Different devices and platforms have different requirements for the video files they can play. By using the online metadata inspector for a video URL, you can ensure that the file is compatible with the target platform or device.
Debugging and troubleshooting: If you encounter problems with sending a video file to a social network, such as playback issues or incorrect display, the inspector can help you identify the root cause by providing detailed information about the file's metadata.
Inspect the Metadata of a Remote File
Are you looking to inspect the media meta data of a remote file – from a URL? With our online video inspector you can simply enter a URL and get a wealth of data, such as duration, dimensions, file type, and audio channels. This is the same data you'll get from ffprobe, but without the need to run locally.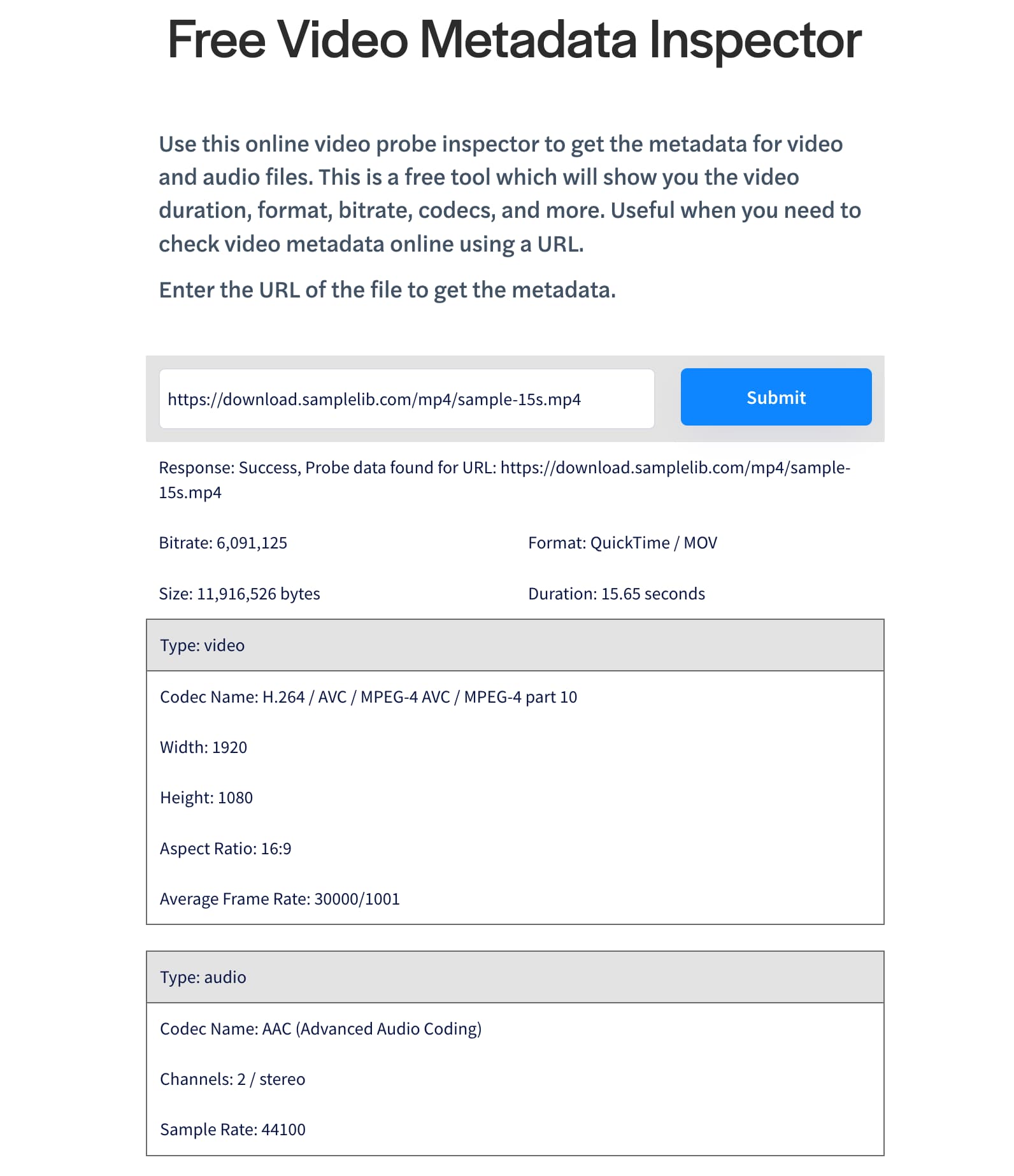 In short, when you get stuck and you think that the video or audio may be the issue or just need to check the metadata, try our Online FFProbe Inspector as a first step.