What Is Driving Twitter's User Growth?
Twitter is one of the most influential social media networks. It's popular with entertainers, creatives, politicians, investors, and many others who are driving the global conversation.
As a member of the Twitter community, it's always good to step back and understand the reach of the network.
The Most Important Metric
The most important metric that Twitter reports on a quarterly basis is monetizable daily active users or mDAU. Twitter defines mDAU as "people, organizations, or other accounts who logged in or were otherwise authenticated and accessed Twitter … that are able to show ads."
In the most recent quarter ended June 2020, Twitter reported worldwide mDAU of 186 million, which was a 12% increase from the prior quarter. In the last few quarters, the growth of mDAU has been accelerating. This indicates that the strategy Twitter has taken to improve user engagement on the platform has been working.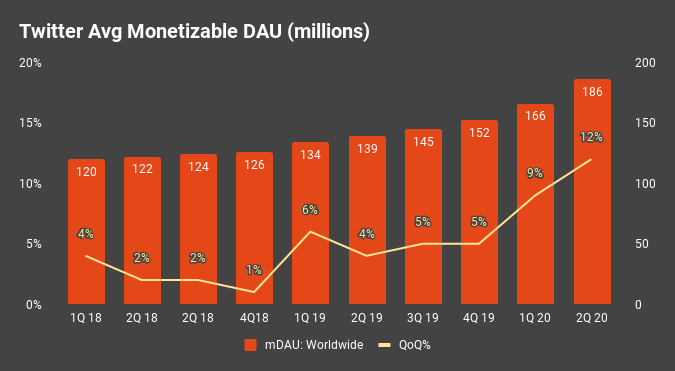 In particular Twitter is showing very strong growth outside of the U.S. Of the 186 million users, over 80% were outside the U.S.! The 150 million international mDAU grew 14% quarter on quarter.
Growth Drivers
Some of the trends driving this growth were:
The increased conversation around COVID-19 in many geographies
Product improvements in notification relevance, search, and the timeline
An increase in the number of topics that users can follow
Virtual watch parties around movies, TV shows, and concerts
---
Twitter is set to report their financial results on October 29, 2020. This is also the time that they update their mDAU metrics. We will be watching to see if the strong growth will continue!