Spring 2023 Travel Destinations, According to TikTok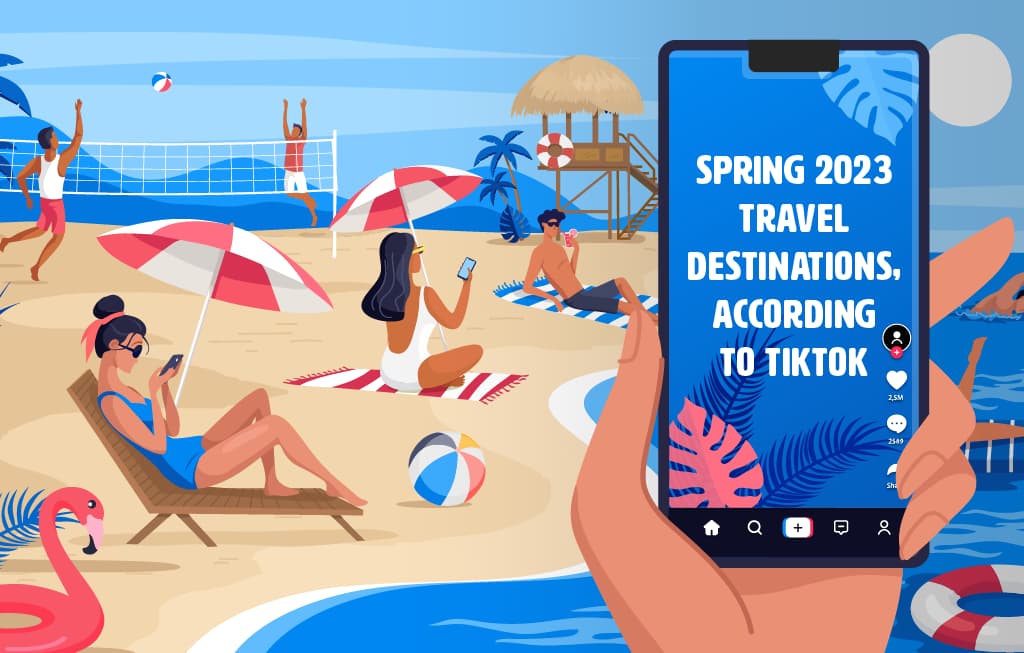 Spring break is the perfect excuse to shake off the winter blues and plan a much-needed vacation. Whether you're looking for a relaxing beach getaway or an action-packed adventure, there's a city that's perfect for you. With so many options available, it can be challenging to narrow down your choices.
Fortunately, social media has made it easier than ever to discover some of the most popular spring travel destinations. In this post, we'll highlight some of the top spring vacation spots according to TikTokers, so you can find the perfect destination for your next spring vacation.
The Best Spring Travel Destinations
Y'all better buckle up because the number one city for spring travel, according to TikTokers, is Houston, TX! With a whopping 4.8 billion views on TikTok, Houston is the most viewed city on our list on the video-sharing app, and it's easy to see why. Houston has an average spring temperature of 78.9, making it the perfect spot to soak up some sun during spring break.
However, if you're hoping to dodge raindrops, you might want to think twice because Houston averages 14.4 rainy days during spring. However, rain or shine, there's no shortage of things to do in this fourth-largest city in the U.S.! You can explore the mysteries of the universe at the Space Center or immerse yourself in the arts at The Menil Collection. So what are you waiting for? Grab your boots and your cowboy hat, and come on down to the Lonestar State!
Washington, DC is another well-rounded spring vacation destination, offering plenty of national landmarks to explore. With just over 2 billion views on TikTok, the nation's capital is also one of the most-widely viewed cities on the platform.
Despite being cooler in the spring with an average temperature of 64.3 degrees and nearly 15 rainfall days during the season, DC still claims third place on our list for its popularity alone. A spring visit to Washington, DC promises to be filled with history, culture, and plenty of sightseeing opportunities.
Foodies rejoice! Charleston, SC, is the perfect spring vacation destination for those looking to indulge in remarkable eateries like the Husk and The Ordinary. With nearly 410 million views on TikTok, Charleston has become a go-to spot for showcasing mouth-watering restaurant menus and culinary adventures in the South.
Plus, with an average spring temperature of 72.4 degrees Fahrenheit, diners can enjoy outdoor seating at many of their favorite restaurants. This combination of delicious food and perfect weather makes Charleston a must-visit destination for any food lover looking for a spring vacation.
Finding the Perfect Destination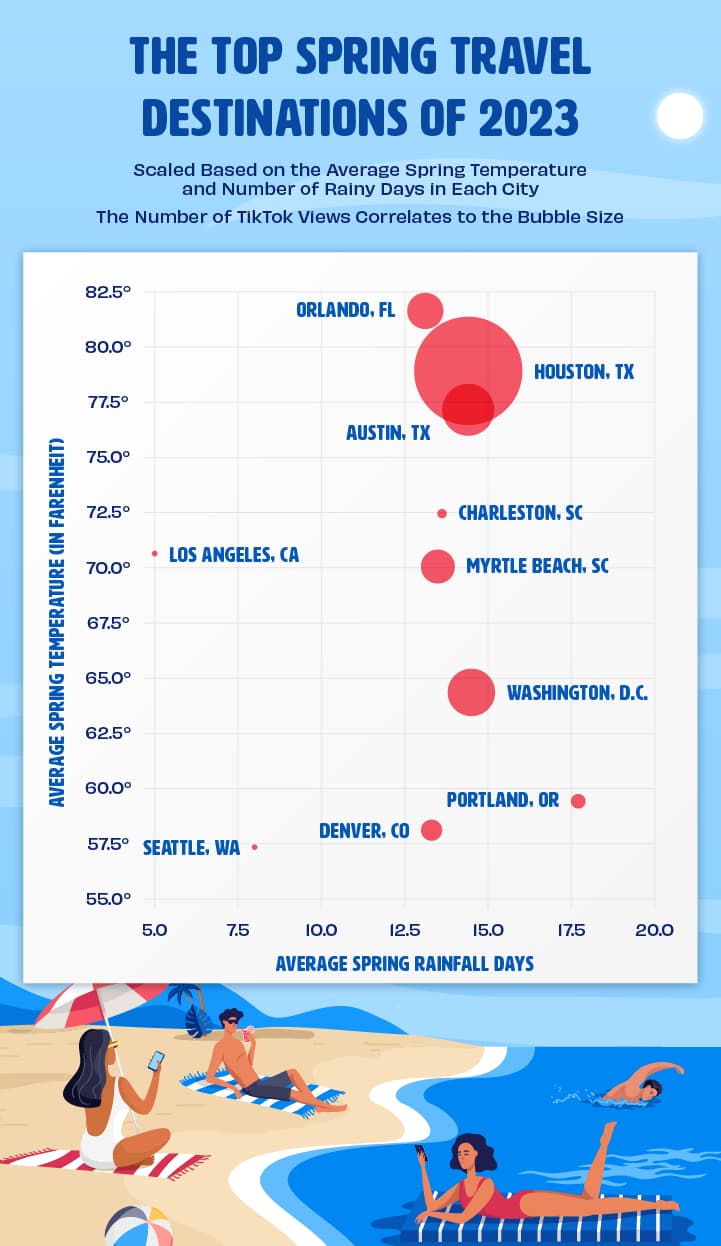 No list of spring vacation destinations is complete without at least mentioning Orlando, FL. The crown jewel of the Sunshine State is always popular among travelers thanks to its beautiful beaches and world-famous attractions like Universal Studios and Disney World.
With an impressive 1.6 billion views on TikTok, Orlando has captured the hearts of many social media users all over the U.S. The city also boasts some of the warmest spring weather in the country, with an average high of 81.6 degrees Fahrenheit. With so much to see and do, Orlando is sure to be a memorable destination for any spring vacation.
On the flip side, Seattle may seem like a surprising choice for a spring vacation, but the Emerald City only averages 8 days of rain during that time of the year. While it may be a little cooler with an average temperature of 57.3 degrees Fahrenheit during the spring, it's perfect for those looking to beat the heat and enjoy some of the best coffee the country has to offer.
With its hashtag amassing 242 million views on TikTok in total, Seattle makes it into the top 10 most popular cities for a spring vacation. The city is home to the famous Pike Place Market and the Space Needle, making it an ideal destination for those seeking unique attractions and experiences.
If you're seeking a spring destination that's sunny and dry, look no further than Phoenix, AZ. Phoenix only averages 2.3 days of rain in the spring, meaning you won't have to worry about any of those pesky raindrops ruining your day. With an average temperature of 83.4 degrees Fahrenheit, you can also work on getting the perfect golden tan while sipping on some refreshing drinks. It's no wonder the Phoenix hashtag gets nearly 191 million views on TikTok, making it our 12th most popular city overall.
But there's more to Phoenix, AZ, than just sunshine. You can explore the exotic Desert Botanical Gardens or take a thrilling hot air balloon ride over the stunning landscape. If you're feeling really adventurous, you can also take a long day trip to the Grand Canyon. It's a four-hour drive from the city; however, the breathtaking views will make it all worth it.
Closing Thoughts
There's no shortage of incredible destinations to explore this spring. Whether you're looking for warm weather, stunning scenery, or mouth-watering food, there's a city out there that's perfect for you. From the famous attractions of Orlando, FL, to the coffee shops of Seattle, and the culinary delights of Charleston, SC, each location on this list has something unique and special to offer. So, pack your bags and get ready to make unforgettable memories on your Spring vacation or during spring break!
If you're looking to promote your own travel-related business or services, Ayrshare can help you reach a wider audience. Using Ayrshare's social media management platform, you can easily schedule and post your content to multiple social networks, including TikTok, where you can tap into the platform's growing popularity. By using Ayrshare, you can efficiently manage your social media presence and grow your brand.
Methodology
To determine the top cities for a spring vacation in the United States, we conducted research using data from TikTok and U.S. Weather. Our analysis included the number of hashtag views for each city on TikTok, as well as the average weather conditions from March to May, which took into account the number of rainy days during this period. This data was compiled in February 2023.
Full Data
That wraps up our Best Spring Travel Destinations, According to TikTok analysis. Interested in diving deeper into the numbers for all of the cities, or wanting to see how the city you plan to visit stacks up if it's not listed within the above map?
We've compiled our full data study for all 50 U.S. cities analyzed into the interactive data table below. Search for your travel destination or click on the heading of each column to sort by that category!