5 Types of Social Media Content That Convert Traffic Into Customers
Get a better understanding of the content types that you should be focused on in your business' social media accounts.
Every business knows that having a social media presence is a must. But getting the most visibility for your brand is getting more and more difficult. Almost everyone including your competitors are pushing more content on social media.
If you want to know how to convert your social media traffic into customers, this blog post is for you. Here's a quick guide to the most popular social media content types that work!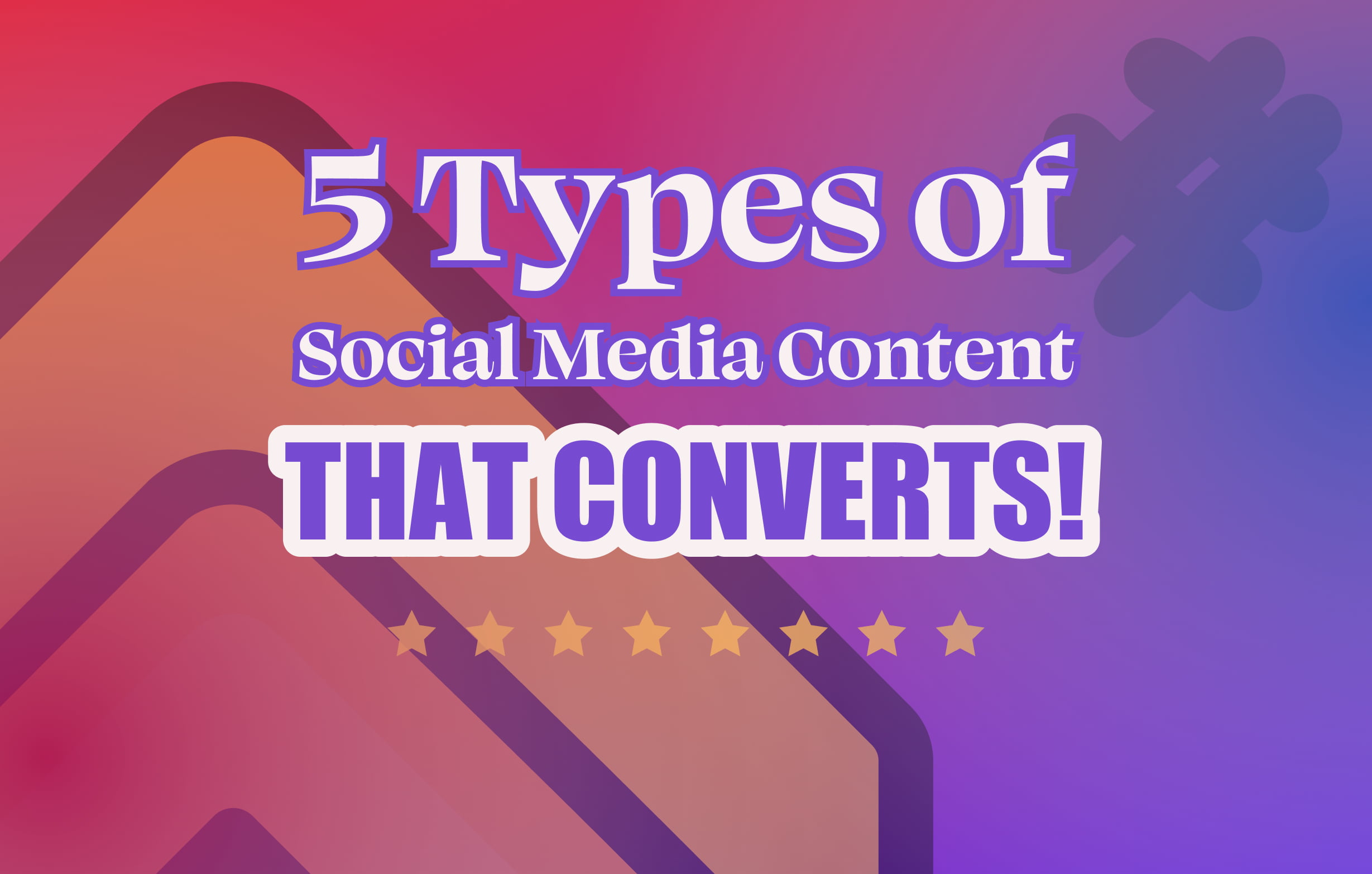 What Types of Content to Post on Social Media?
Before we jump into the content formats, it's important to take note of the major social media trends happening this year. The Social Media Industry Report 2022 shows a clear decline in Facebook and Twitter users, and an increase in Instagram, LinkedIn and TikTok platforms.
Social Media Industry Report 2022: Social Media Marketing Stats & Trends
Facebook is declining in popularity
Instagram growing in popularity
Short-form video use is on the rise
Marketers show increasing interest in YouTube and TikTok content
Facebook and Instagram ads contribute the most sales for most marketers (>50%)
Types of Social Media Content Marketers find the Most Valuable, SproutSocial Index, 2021
Videos (54%)
Images (53%)
Text-based posts (30%)
Stories (26%)
Live videos (25%)
Based on these trends, remember to have a mix of content types on your social media accounts.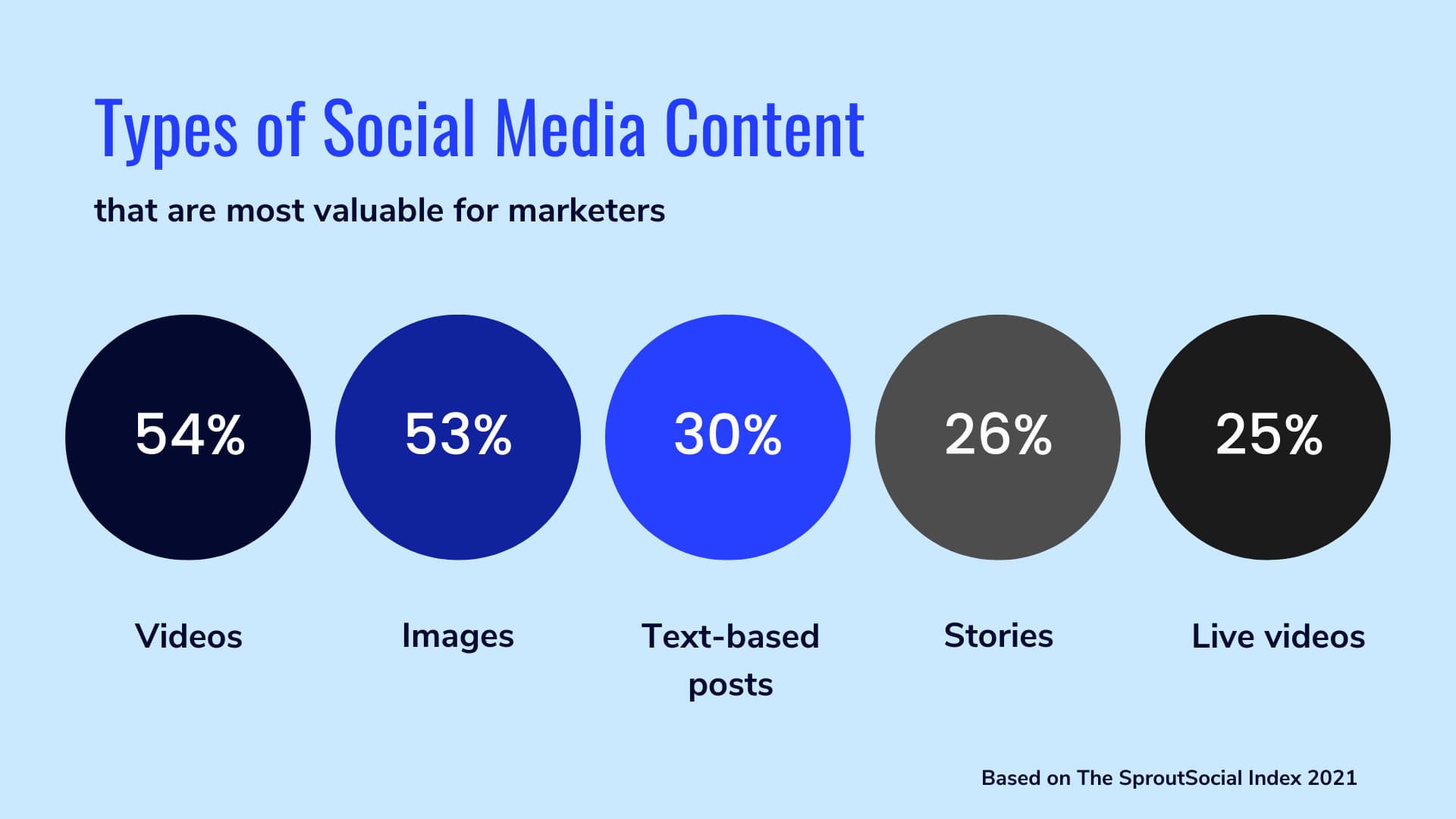 5 Types of Content to Post on Social Media
HOW TO USE VIDEOS ON SOCIAL MEDIA
Videos are by far the best content form to post on social media. People love watching videos because they're entertaining, easy to consume and share with friends.
Why do videos work on social media?
Videos get 49% more engagement than images.
Video content is 2x more likely to be shared on social media than images.
54% of marketers say videos helped them sell more products.
TikTok and YouTube are growing in popularity among Gen Z.
Content ideas for videos:
Compile a behind the scene or vlog style video of your brand and post it on YouTube.
Share a step-by-step tutorial of using your product and post it on YouTube or Facebook.
Tools for editing videos:
iMovie – free desktop video editor available on MacBooks.
Canva – free templates for video intro and outros, to help you stand out on social media.
HOW TO USE IMAGES ON SOCIAL MEDIA
Why images work on social media?
Static images are another popular type of social media content. Just because they're not as engaging as videos don't make them less effective. However, images are not prioritized by the latest Instagram and Facebook algorithms so they are best used in a rotation with other content types like videos, stories, and reels.
Here are some ways to incorporate images in your social media strategy:
Infographics and industry statistics.
Photos of your team, office or products.
Share a photo dump from an event.
A carousel of your latest product collection.
Lifestyle photo of an influencer with your product.
HOW TO USE TEXT-BASED POSTS
Why Text-Based Posts work on Social Media?
Did you think text posts are dead? Marketers still use text-based posts on Twitter and LinkedIn to get to communicate and engage their target audience in trending conversations.
How to use text-based posts on Twitter:
Ask questions to collect feedback on a product from your audience
Start conversations to boost engagement and loyalty
Stay on top of trends with trending quotes and memes
Turn your best text-based posts into graphics. Text-based posts are easy to repurpose on other social media platforms (eg. Twitter, Facebook, LinkedIn)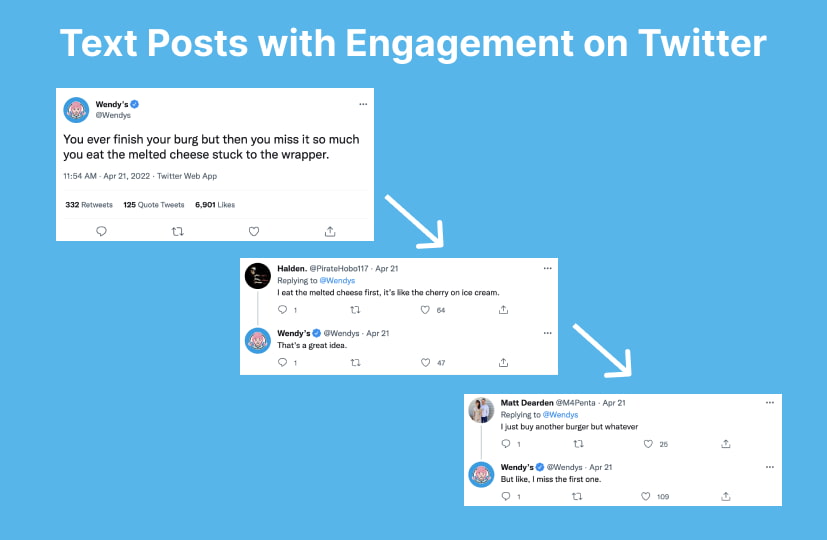 HOW TO USE STORIES ON SOCIAL MEDIA
Why do Stories work on Social Media?
Marketers love stories and looping short videos because of their interactive nature. By adding stickers and visual elements (GIFs, text, filters and songs) to a Story you can express your brand personality.
How to use Stories:
Film a short (1-3 min vertical video) on your phone sharing 3 tips, hacks or showing your product.
Add visual elements to make your Story branded (GIFs, text, color, logo).
Add interactive stickers (poll, question) to encourage engagement.
Share links that people can click on to visit your website or shop.
Where to post Stories:
Instagram Stories
YouTube Shorts
Twitter
TikTok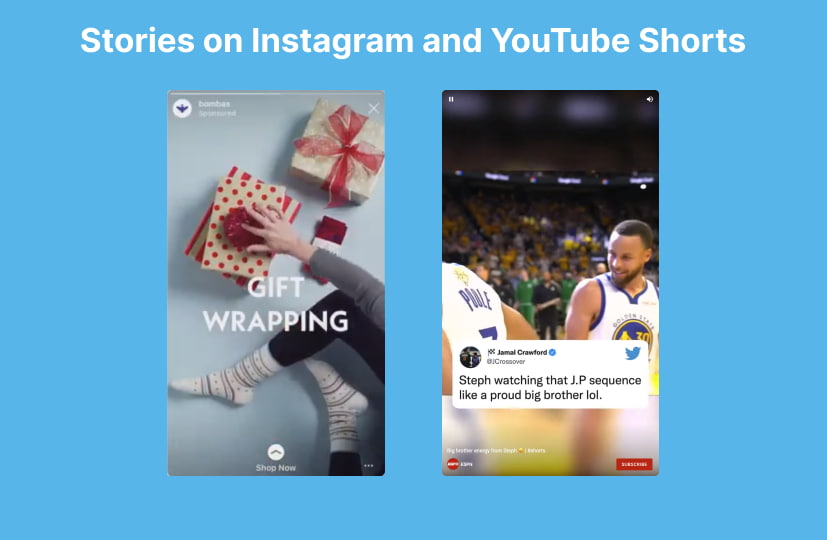 HOW TO USE REELS AND SHORT VIDEOS
Why do Reels work on Social Media?
Reels are similar to Stories, except for one thing: Reels get more reach and exposure to new people who aren't following you. That's why, they've exploded in popularity on Instagram. But creating a Reels video is more complex than a Story.
How to create a short tutorial on Reels:
Look for inspiration on the Reels tab
Choose a song/ music tune
Script the Reels video (what are you going to do/say)
Share a tip, hack or how to use your product
Put the best part in the first 5 sec. of your video (aka. "The Hook")
Provide extra value
End with a short CTA (eg. "Read the caption", "Click the link in bio")
💡MARKETING TIP: If you want to increase conversions from social media, you should always add a call-to-action (CTA) to all your posts. An effective CTA will give your followers a sense of direction, and encourages them to take a course of action after consuming your content. Want your followers to visit your website? Simply ask them!
How to edit Reels videos:
Use the native Reels editor available on the Instagram app
These short videos are best created on your mobile phone, using the vertical/ Selfie camera. Try the InShot app to cut, trim, and add text and music to your Reels and TikToks.
The Takeaway
Social media is an integral part of marketing any small business. By publishing a mix of different content types you can reach your audience more effectively. Next time you plan your content calendar give these five types of content a try and start growing your audience and traffic from social media.