Best Times & Frequency to Post on Social Media Networks
These are the best times to publish on Instagram, Twitter, Facebook and LinkedIn!
Posting at the right time on social media comes with many advantages. More people will see your posts which leads to more engagement. You get to interact and respond to comments in real time which builds more trust. And you can avoid having your content buried by time-based algorithms.
In this post, we're sharing the best times and frequency to post on each social media platform in 2022. The data in this post comes from analyses and research from many participants in the social media ecosystem. [1]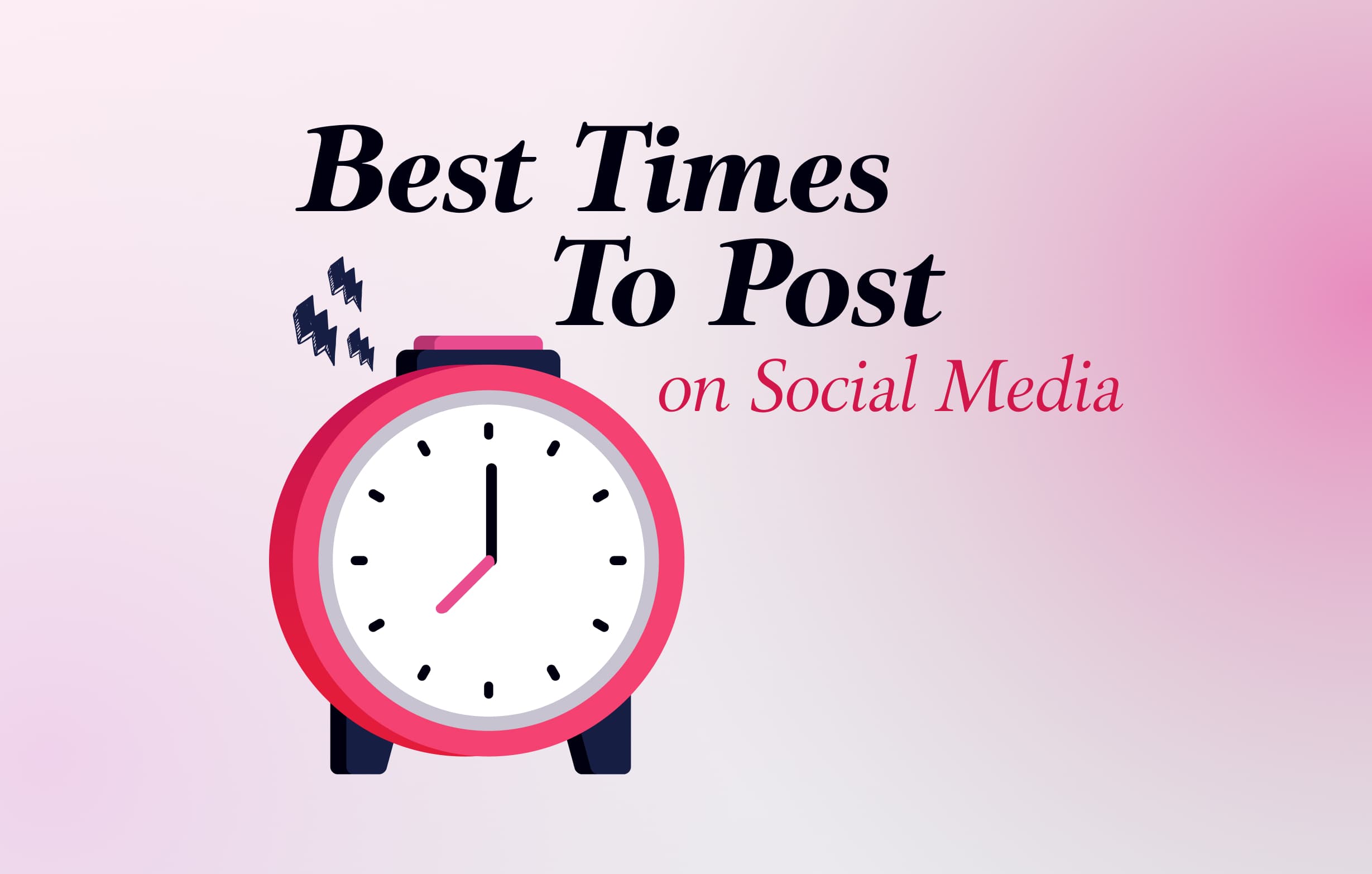 What is the best time to post on Instagram?
According to Later, the highest level of activity on Instagram happens between 6:00 – 7:00 am local time. Hootsuite did their own study and found that 11:00 am on Wednesday is the best time to post on Instagram.
The research also suggests that Instagram users are more likely to be on their apps early in the morning before work or late in the evening after work. By scheduling posts early in the morning, you'll have less competition and will ensure your followers see your posts first thing in the morning.
Another thing to take into consideration when posting on Instagram is your followers' geographical location, not yours.
Here are the best times to post based on locations, according to Later:
US & Canada: between 4:00 am – 8:00 am
South America: 4:00 am
Europe: 5:00 am – 8:00 am
Africa: 6:00 am
Middle East & India: 3:00 am
South-East Asia and East Asia: 11:00 pm – 4:00 am
Australia: 2:00 am
While these times can give you a starting point, you should use analytics tools to get custom times for your audience.
Use Instagram's follower insights to find the best posting times for your account.
What is the best frequency to post on Instagram?
Instagram's CEO, Adam Mosseri, gave us the answer:
He suggested that brands should post on Instagram:
Minimum 2 posts per week (on the feed)
And 2 Stories per day
Hootsuite also found that the optimal posting frequency for growth is 3-7 times per week.
What is the best time to post on Facebook?
According to SocialMediaToday, these are the best times to post on Facebook:
Best time: 9:00 am – 1:00 pm
Best days of the week: Tuesday, Wednesday, and Friday
Worst days: Weekends (least engagement)
Hootsuite also found that "it's best to post [on Facebook] first thing in the morning when people are catching up on their feeds". 
However, Buffer found that most of their followers check their Facebook apps during their lunch, and tea time break, suggesting the optimum time for engagement is between 9:00 am and 3:00 pm.
What is the best posting frequency on Facebook?
Best frequency to post on Facebook according to ContentStudio is:
1 post per day
5 -10 times per week
But you don't want to overdo it. The average lifespan of a Facebook post is about 5 hours, so posting more than 2 times per day will only decrease the reach of your previous posts.
What are the Best Times to Post on Twitter?
Hootsuite experimented with posting on Twitter at various times throughout the day and found the peak posting times for their account to be:
Weekdays, 6:00 am – 9:00 am
But when they looked at other accounts, they found the general best time:
Best time to post: 8:00 am
Best days to post: Monday and Thursday
If your audience is global marketing experts suggest that it's important to "sprinkle content around the clock" in order to reach more people, in different timezones.
You can always check your Twitter Analytics shows you the dates with highest tweet impressions. 

What is the best frequency to post on Twitter?
Buffer suggests posting between 7 and 14 times per day, including weekends, but not more than 1 time per hour.
This is because, unlike Facebook posts, Tweets have a very short lifespan of just a few minutes.
And posting too many Tweets in one go will only decrease your reach.
The Best Times to Post on LinkedIn
When it comes to LinkedIn content, experts agree that taking a data-driven approach is best. It's not just the time of posting that matters but the quality and relevance of topics.
Test a few posts and learn to find the best posting times based on the content you share.
Hootsuite found the following peak posting times:
The best time to post on LinkedIn is 9:00 am
Good times to post: 8:00 am – 11:00 am
Best days: Tuesday and Wednesday
How often should you post on LinkedIn?
When it comes to posting frequency, Buffer suggests that it's best to post 1 time per day, excluding weekends.
Best frequency: 1 x day
Only post on weekdays
Summary: Best Times To Post on Social Networks
There is no universal best time for everyone. If there was, everyone would target it, and it would quickly become too competitive. Instead, the best way to find the ideal posting times is to look at your post analytics to see what works best in your situation. 
You should look at both impressions such as how many times a post was viewed, and engagements like like count, and comments.
Tips for improving social media publishing:
Post at times your audience is active.
Take into consideration your followers' time zones, not your own.
If you target a global audience, then schedule posts around the clock.
Starting a new profile from scratch? Try studying your competitors who seem to be getting strong engagement. Pattern matching can help you reach the same audience.
How often to post on social media? You want to post enough to provide value, but not too much to annoy people. Find that fine line.
---
[1] Sources for the data in this article include later.com, Hootsuite (report on times, and report on frequency), SocialMediaToday, ContentStudio