Social Media Demographics Comparison
We looked at the data from numerous sources to understand the demographics of some of the most popular social networks. In this analysis we focused on the age group and gender.
Social media demographics are important to understand when you are putting your marketing strategy. Understanding the differences between the social networks allows you to more effectively target your content and ads.
Analysis and Methodology
Each of the social networks reports the percentage of their user base segmented by age and gender. So for example, 17% of Facebook's users are males aged 25-34 while 6% of Pinterest's users are in the same segment. If we look at the segment of females aged 18-24, that makes 9% of Facebook's users, while it comprises 15% of Pinterest's.
This type of data tells us that if we are selling a product to the former segment, Facebook is a good target, and if we are targeting the latter segment, Pinterest is a good target.
We looked at each of the 12 segments grouped by age and gender, and compared the social network to the average of the six networks to come up with a relative ranking. We then translated the ranking to a star system.
Keep in mind that each of these social networks is a different size. So for example, while YouTube may not have a higher percentage of its user's in the 18-24 segment, the sheer size of the platform ensures that there are more users in that segment than on a smaller network like Pinterest.
Global Social Media Demographics
For context, global social media users are 54% female and 46% male. The largest age demographic of global internet users is the 25-34 group which is 32% of users, followed by 35-44 which is 19% of users.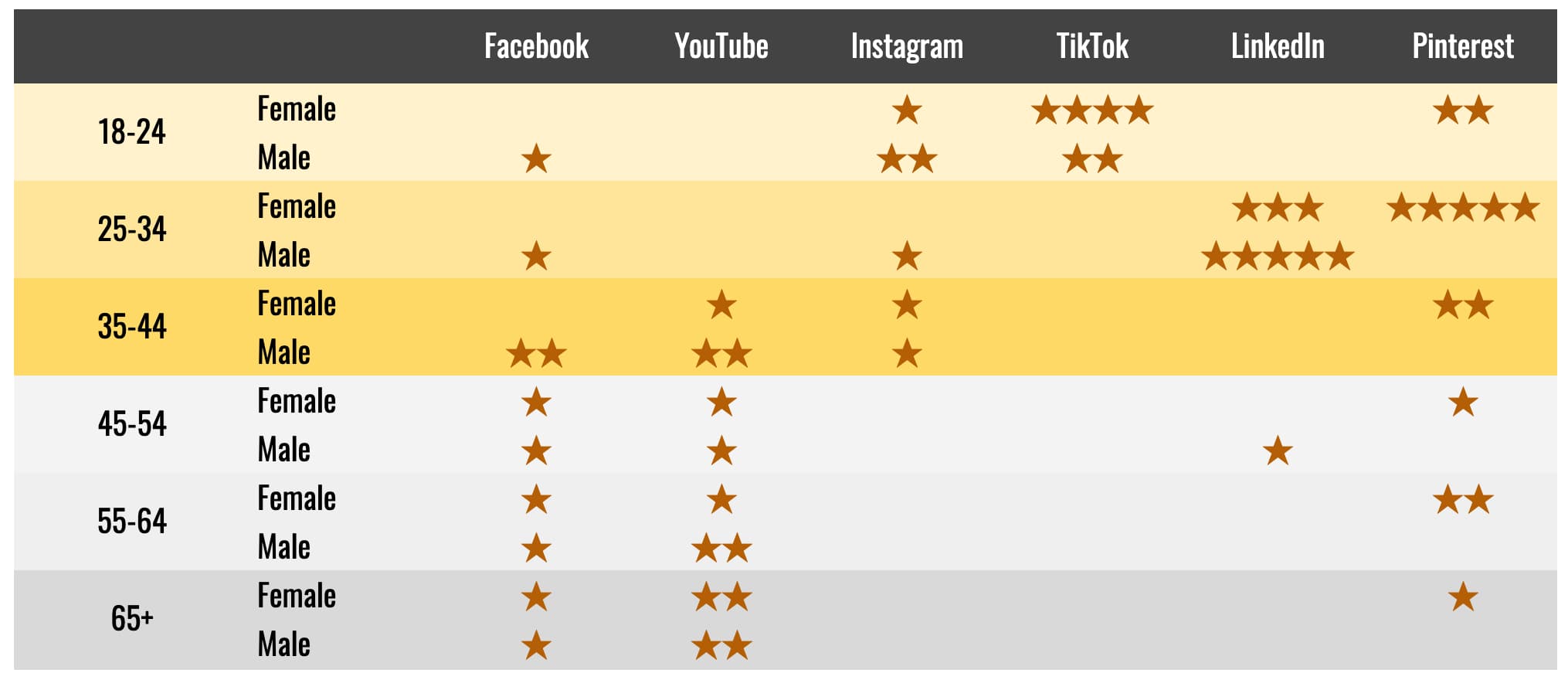 For the youngest group of 18-24 year olds, TikTok has the strongest position for both females and males. Instagram can compete with TikTok for male younger users.
For the next age group of 25-34 year olds, Linkedin has a very strong presence, especially with male users. Pinterest is quite strong in this group for females.
The 35-44 age group is more evenly balanced. YouTube has a solid position. Facebook, Instagram, and Pinterest also perform well.
In the older three segments, Facebook and YouTube perform quite well. For older females, Pinterest is a solid performer.
The U.S. Demographics Are Broadly Similar
An analysis by the Pew Research Center focused on the U.S. shows broadly similar results.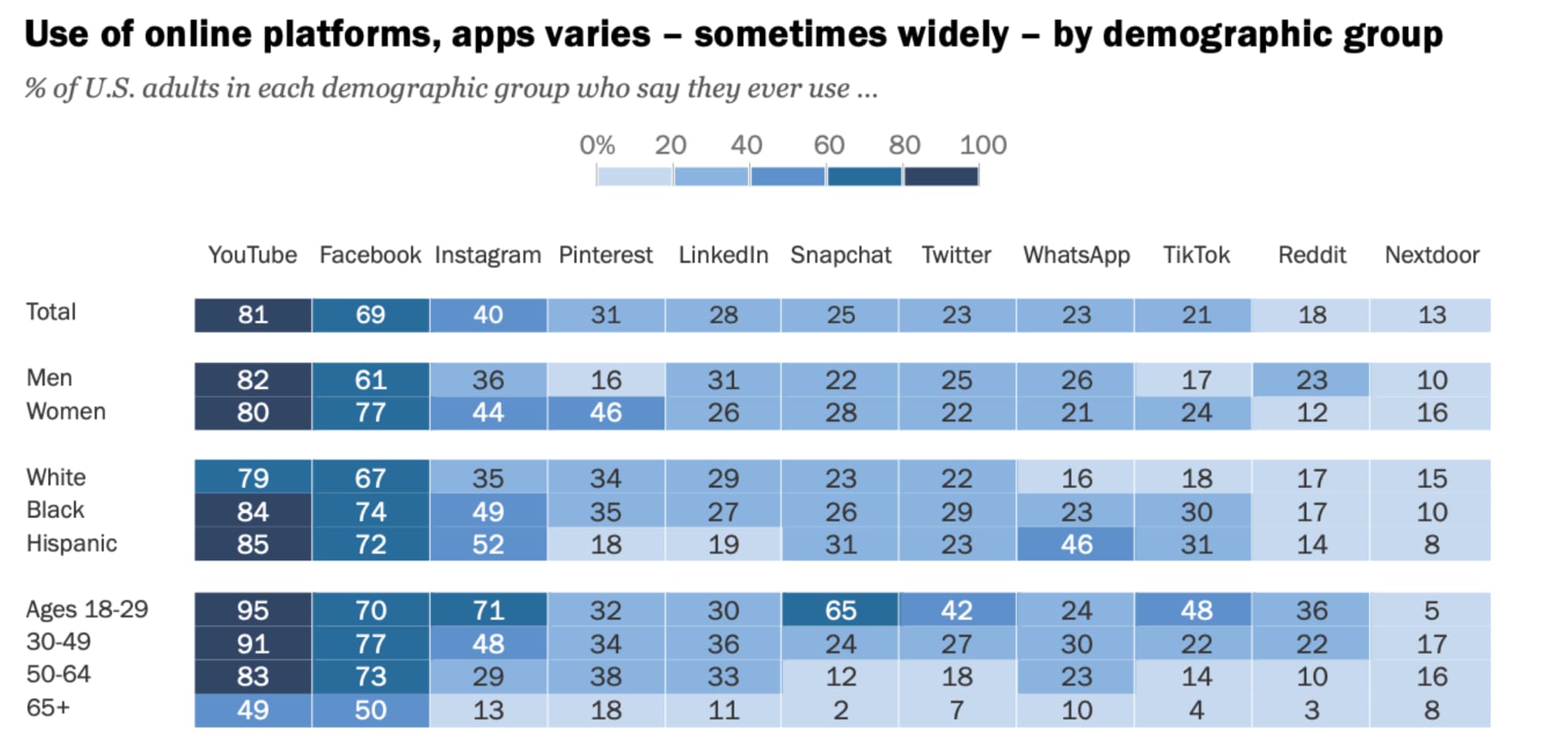 YouTube and Facebook have strength across all age groups and both genders.
Younger users tend to be a larger portion of the population at Instagram, Snapchat, Twitter, and TikTok.
Pinterest is most clearly skewed towards female users.
Recommendations
When you are considering social media networks demographics, here is what should keep in mind:
Facebook demographics are generally uniform across ages and genders. YouTube demographics are similarly uniform with some clear relative strength in the older segments.
Instagram and TikTok demographics show a clear strength in the younger groups. Linkedin demographics demonstrate a tight segment of strength in young working professionals. Pinterest demographics are clearly skewed to female users across all age groups.
---
Data sources: Backlink.to, Statista, Datareportal, Pew Research Center, Facebook, YouTube, Instagram, TikTok, Linkedin, Pinterest