How to Improve Content with Social Media APIs: 3 Tips from Marketing Pros
Do you know what attracts marketers to a social media platform? It's just 2 things: Its user base and data.
With a wide audience, social media platforms like Facebook, TikTok, and Instagram have quickly become the marketing platform of choice for brands.
Why? Because marketers love detailed insights and data.
Data allows marketers to understand their customers' behavior in great detail, from knowing where they📍shop to their favorite coffee ☕️ order.
So what do marketers do with all this data?
Most times, data is used to improve products or market the right product to the people (who are most likely to buy).
Are you a marketer looking for ways to improve your social media content? Or perhaps you're a developer interested to add analytics features to your website?
In this post, let's explore a few ways you can boost your content with data-driven and marketing APIs.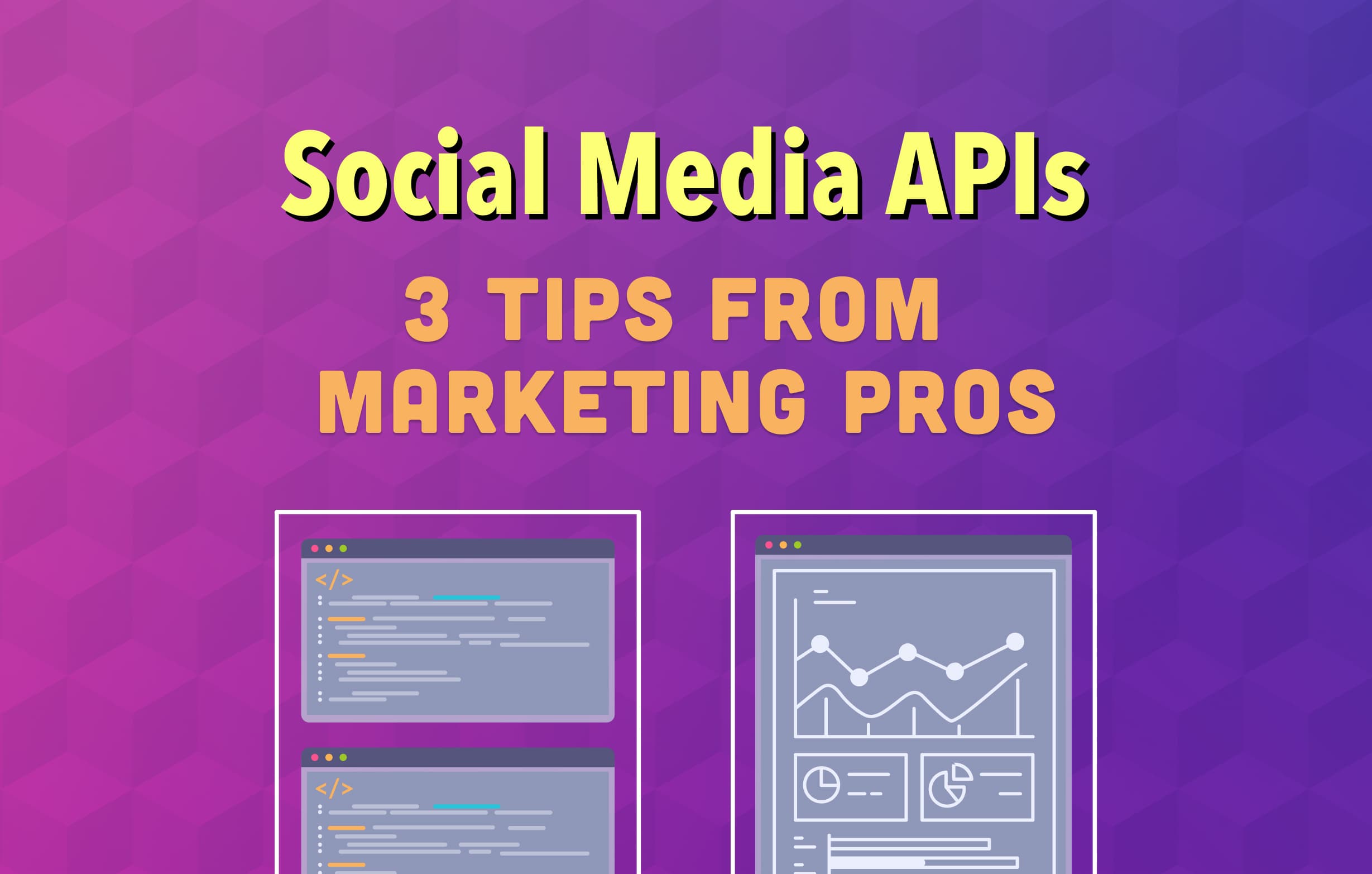 But first: What are APIs?
An API, or an application programming interface, is the interface between different apps used to transfer information around the internet, usually connecting two systems. Developers can use a variety of APIs to add new tools and features to their websites. 
Today, many social media brands and marketers use APIs to manage, schedule and analyze social content. Social media APIs and marketing APIs make it convenient for users to post content from a single dashboard instead of posting manually on each network.
The Role of APIs in Content Marketing
The main benefit of APIs is that they allow businesses to do more with their content. They help brands share the right content, at the right time to the right platform.
Here are 3 main ways APIs help with content distribution:
Take content from different sources.
Publish content on different platforms.
Help people discover your content easier.
Now that you have an idea of what APIs do, let's explore a few ways they can help you improve content.
How To Improve Content With Social Media APIs: 3 Tips from Marketing Pros
Tip #1: Have a cross-channel marketing approach to reach more people
According to Salesforce: "73% of marketers say that having a cross-channel strategy has a great impact on conversions".
The main reason why brands use an omnichannel strategy is that they want to make sure their target audience sees their content.
Let's say you only share content on Facebook because you think that's where your audience is. Well, you may be surprised to find out that Facebook only shows your content to <10% of your followers. And if your followers choose to spend their time on Twitter or Instagram, they're not going to see your post.
Let's look at an example: Nike's omnichannel content strategy. 
Having a wide range of products like shoes, apparel, equipment, and a large target audience, Nike needs to share content for each product category and get it in front of millions of people across multiple social networks. 
But each post also needs to cater to a different buyer persona: teenagers, gym enthusiasts, athletes, and others. 
Well, as you may imagine, that's a lot of content to manage!
Social media APIs can help brands like Nike manage their content distribution across different channels from a single, simple to use dashboard. They can also directly schedule posts from their system with an API integration.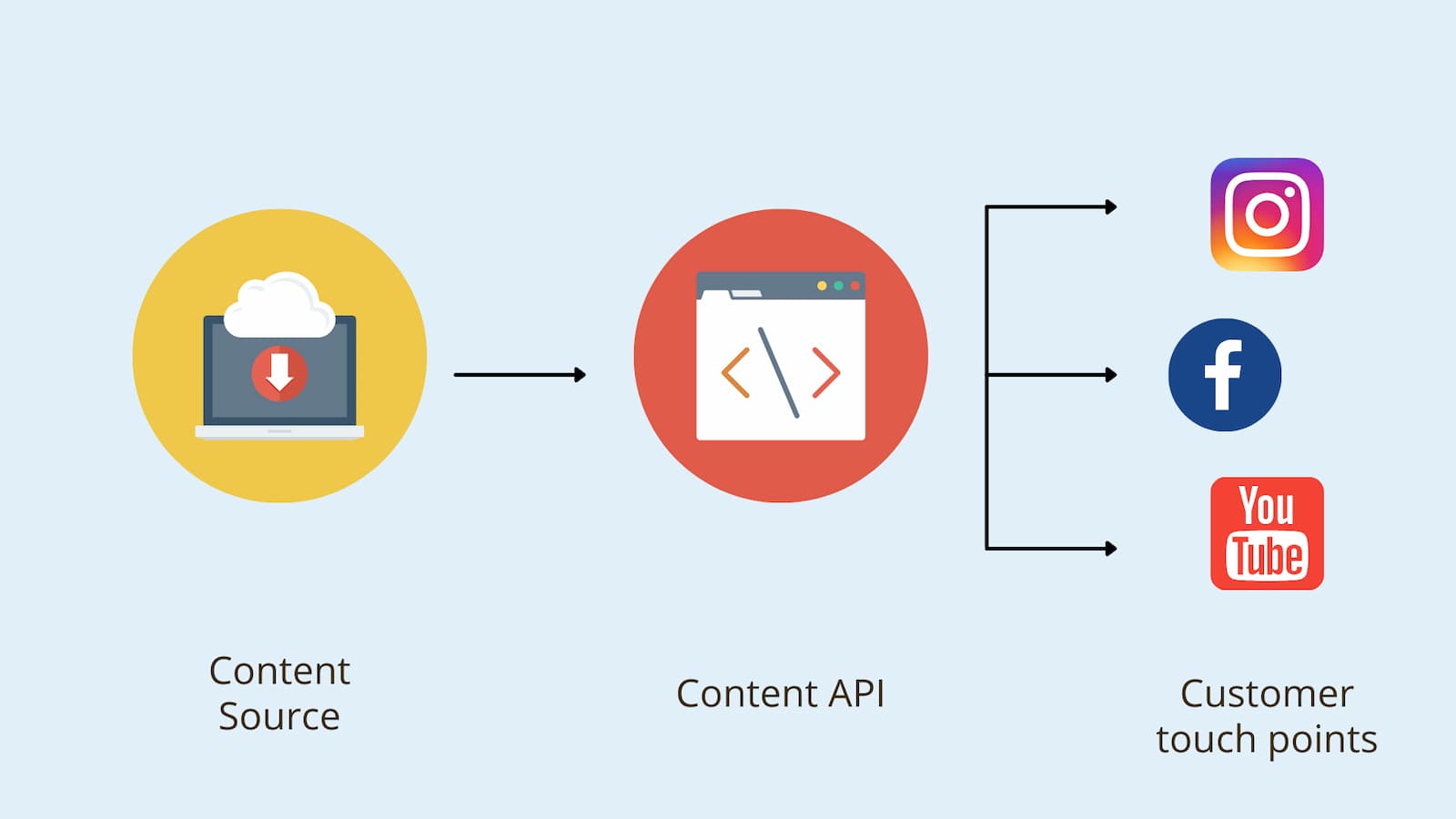 Example of a Content API:
Ayrshare's API endpoints offer developers the core infrastructure for social media posting to multiple networks, management and analytics. With a few simple lines of code, anyone can quickly start posting to social media platforms
Tip #2: Use analytics to understand your audience & optimize ad campaigns with a Marketing API
Knowing customers is crucial for content marketers.
"The companies that are going to win are the ones who are using data, not guessing"

– Neil Hoyne, Chief Strategist at Google said at a Wharton Symposium.
With social media analytics, it's now easy to learn about your customers' habits, which posts they like, what times they're active online, and more.
Most analytics tools use APIs to help marketers analyze content and export generate reports. These APIs extract information from social media networks and summarize it into easy to read charts.
Instead of having to go through several CSV files or manually calculate social media metrics, a marketing API can summarize it for you.
Once you have this data, the options are limitless.
Most commonly, brands will use data from analytics tools to plan their future ad campaigns.
Example of Ad Campaign API:
Facebook Conversions API – helps advertisers collect detailed insights on how their ads attract customers while protecting people's identity. Developers can use this Facebook API to help users optimize ad targeting, reduce cost, and track campaign results.
Tip #3: Monitor Social Media Mentions With Social Media Listening  APIs
Market sentiment is a unique insight that can help marketers know what customers think of their brand.
Neil Patel, a SEO & marketing expert, uses data to track his brand mentions across blogs and social media posts with an API called Social Mentions.
If you're a marketer, it's very important to use social media listening tools to track brand mentions, hashtags, and reviews with social media listening APIs. If people are leaving negative reviews for your product you'd want to find out immediately and respond – sooner rather than later.
Example of social listening API:
Social Mention API is a free API that allows developers to add vital social listening information into their website/app.
Conclusion: Data analytics is the key to improving content
Data is the most valuable asset for marketers.
Without detailed data analytics, most marketers and businesses wouldn't be able to tap into their social media audience and learn about their interests, hobbies, and shopping habits.
Luckily, most social media networks come with useful APIs that allow developers to build better apps to manage, schedule and analyze content like never before.
And with the help of data-driven APIs, you can scale your content strategy to new heights.
The question is: Are you ready?