Instagram Hashtag Guide: The Best Way to Use Hashtags on Instagram
Do you know the best way to use a hashtag on Instagram posts? If you're looking for follower engagement, you need to know how to find and use the most popular, relevant, and trending hashtags. This article guides you through the process to create an Instagram hashtag strategy.
Although Instagram wasn't the first social media company to introduce hashtags, the platform has certainly become an ardent fan. On top of the captions added to shared photos and videos, you can add up to 30 hashtags per post.
If you run a business, smartly using Instagram hashtags can quickly expand your reach and follower engagement. In fact, adding hashtags in the caption and comments is one of the social media marketing tips recommended by many experts.
If you find the right hashtags your share could become one of the top posts. How?
People often find posts by search specifically for hashtags, click on a hashtag in a post, or looking for popular or trending hashtags. By adding the right ones to your photos and video, you increase the change you'll be discovered.
Proper Use of Hashtags on Instagram
Needless to say, adding random Instagram hashtags to a post or story isn't the best way to utilize them. You need to consider several factors to determine the hashtags relative to your campaign. In doing so, you maximize the strength of your Instagram marketing strategy.
To help, here are the best recommendations to follow.
Hashtag Format
A unique hashtag consists of a combination of letters and numbers. It is preceded by the number sign (#), also called a hash or pound sign. For instance, #socialmediamarketing.
This hasn't changed since 2007. This is when Twitter first allowed its subscribers to add hashtags to their posts. Since then, tens of millions of new hashtags have been introduced to the social media universe.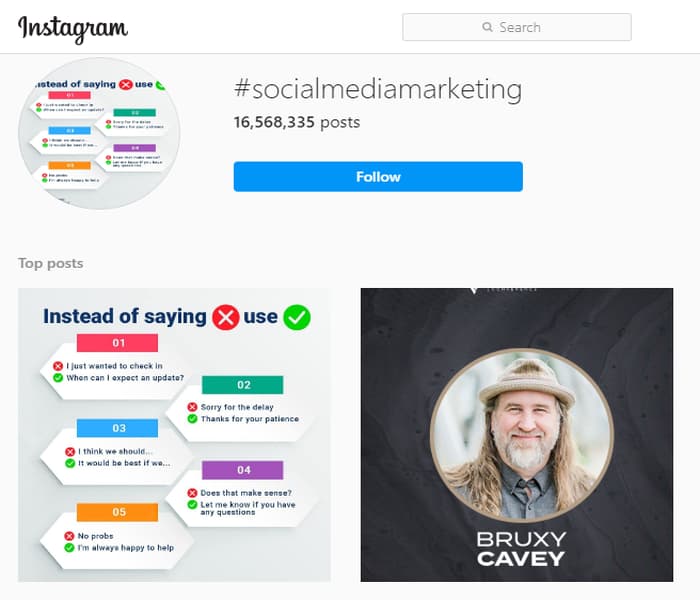 Instagram hashtags have an additional element: They can include emojis. So, #ayrshareapi😄
could end with a heart or smiley face. However, some experts recommend using emojis in your Instagram captions. Their analysis reveals these hashtag suggestions tend to generate more traffic: "the higher the number of emojis used, the higher the amount of interactions."
Like Twitter, Instagram hashtags don't permit special characters like punctuation, slashes, or spaces in-between words. Yet, a hashtag can contain an underscore, as in #ayrshare_api. Similar to the use of emojis, this symbol reduces the hashtag's power.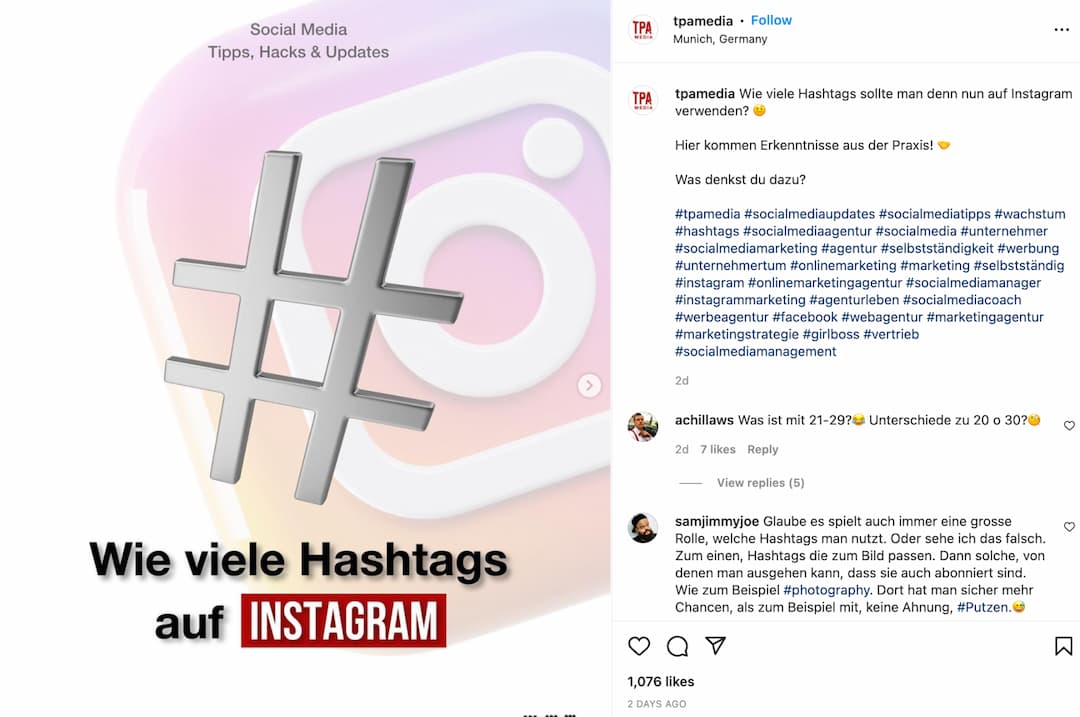 Types of Relevant Hashtags
We don't mean the composition of an Instagram hashtag when we talk about type. Instead, it's the category the data falls under. The platform defines nine types of hashtags relevant to your captions.
For your post, you can run through these categories to help come up with relevant hashtags.
Niche hashtags are specific keywords that pertain to your interest. Example: #socialmediablogger
Service/Product hashtags indicate something you sell, like a product or service. These also fall under the category of branded hashtags. This is data related to a specific brand or company. Example of a Service/Product hashtag: #socialmediamarketing
Example of a Branded hashtag: #ShareACoke
Special event/Seasonal hashtags refer to real holidays, National [Object] Day holidays, or seasons. Examples: #nationalicecreamday, #NewYearsDay, #pumpkinspiceseason
Instagram community hashtags relate to a specific community on the platform. They help you find one to join. Example: #writersofinstagram
Relevant phrase hashtags pertain to what you're doing at that moment. Example: #iamwriting
Location hashtags point to a certain geographical location. Example: #losangeleseats
Acronym hashtags are shortened social media standards. Examples: #TBT (Throw Back Thursday), #QOTD (Quote of the Day)
Daily hashtags are utilized to post pictures or videos related to topics of the day. Example: #SundayFunday
Emoji hashtags feature these images with or without words. Example: # I 💓socialmedia
Popular Instagram Hashtags
Instagram hashtags are more than additional identifiers. They allow you to find and join a community. If you don't want to become a full-time follower, then you simply highlight your favorite hashtags on the Instagram app to see what's new.
There are plenty of trending instagram hashtags available. Yet, a small set of popular hashtags are constantly utilized in posts. These have entries in the millions and billions instead of thousands.
The top 10 trending hashtags from the summer of 2021 were:
#love (1.835B)
#instagood (1.150B)
#fashion (812.7M)
#photooftheday (797.3M)
#beautiful (661.0M)
#art (649.9M)
#photography (583.1M)
#happy (578.8M)
#picoftheday (570.8M)
#cute (569.1M)
Banned Hashtags
Although most related hashtags are fine for your captions and Instagram stories, the social media platform regularly compiles and updates a list of banned hashtags. These items have been flagged either due to inappropriate use or if they violated Instagram's Community Guidelines.
If you inadvertently use banned hashtags in your Instagram posts, there's a good chance they won't be seen by the community. When the platform's algorithm recognizes a banned hashtag, the item is blocked. This is called a shadowban since you aren't notified of the issues.
Check out the list of the current Instagram banned hashtags. Do not use these!
How Many Hashtags
There's an open secret about how many hashtags to use on Instagram. Nevertheless, reminders are needed. If you use hashtags regularly in your Instagram posts, then you might get careless. In these situations, the use of relevant hashtags is diminished.
Additionally, don't add all of your hashtags into the post caption. This makes it look cluttered and draws the eyes of the Instagram user away from your message. Instead, keep the caption clean and place your popular, relevant, and niche hashtags in the first comment.
How many hashtags should you add to your post? You can go with one hashtag, although if you want to use multiple, then 15 or more is recommended. Research them through the platform's search engine. This gives you a selection of top hashtags and those that, while not frequented much, have enough followers to intrigue Instagram users.
This doesn't mean your caption should always be devoid of related hashtags. Always try to include at least one to help users find your post.
How To Maximize The Reach Of Your Hashtags
Now that we've addressed the mechanics of hashtags let's discuss ways to maximize their reach. After all, you want Instagram users to follow your campaign hashtags to increase your influence or sales. Here are a few things to consider.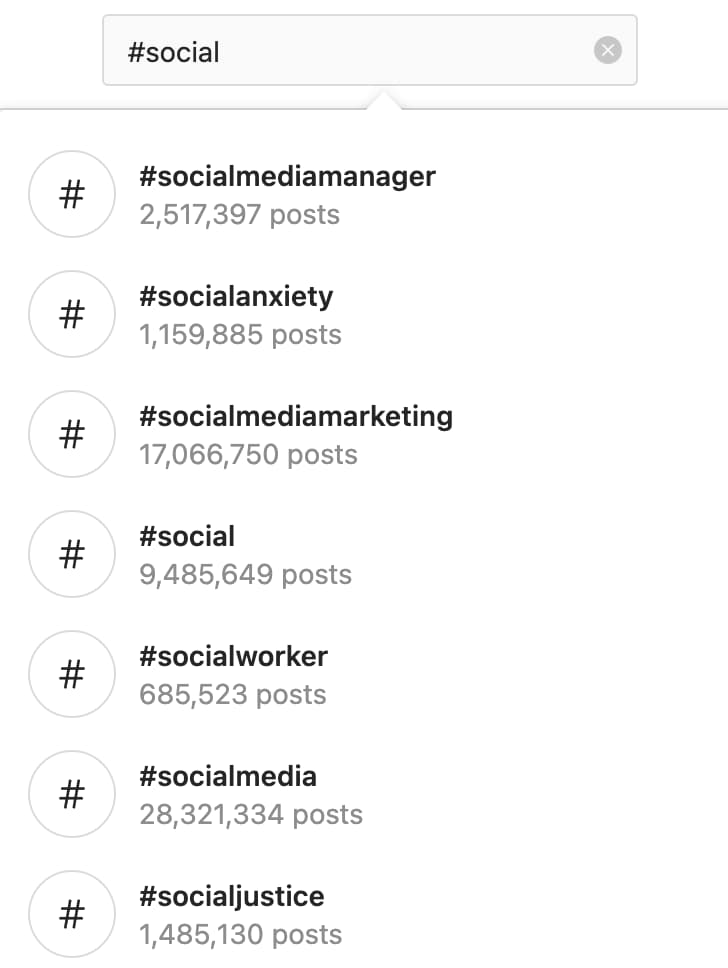 You don't have to subscribe to hashtag pages to find trending ones on Instagram. A simple search on the social media platform provides all the hashtags within your niche in descending order (see image below). Nevertheless, there are numerous sites to find trending hashtags, including Instagram hashtag generators. See some of the best Instagram hashtags and suggestions of relevant hashtags to use in an Instagram post.
Create a list of the hashtags you want to use by doing the recommended hashtag research. Separate these saved hashtags into different categories to generate a variety of topics.
Don't stick with the same relevant hashtags. Rotate them and examine their response. If they don't extend your reach, then rotate a new niche hashtag in and study the results. Keep shifting them around until you find the right combination.
If you establish an Instagram business account you can utilize their Insights tool. This measures ongoing trends on the social media platform and how your top posts are doing.
Add relevant hashtags to your Instagram bio. However, don't overdo it. At the minimum, you need to create a branded hashtag for your business.
Don't focus on a specific hashtag that has the most followers. This is the hardest one to get Instagram users to see your posts. Try to narrow your search further to find effective hashtags for your photo or video presentation.
In the end, Instagram hashtags are powerful tools. Use them wisely and you'll see more followers and customers. Keep this guide handy to maximize your presence now and in the future.