10 Tips for Using Hashtags Effectively on Facebook, Twitter & Instagram
Hashtags are an essential tool for social media marketers. Learn 10 tips for using hashtags effectively in this post!
Hashtags are commonly used on Twitter, Facebook, Instagram, and other platforms to discover relevant content. They're also a great tool for marketers because they allow you to target specific audiences and engage with them. In this article, we'll share our top 10 tips for using hashtags more effectively.
What are hashtags?
Hashtags were first introduced on Twitter to make it easier for their users to discover and join topics they're interested in.
According to Twitter: "A hashtag—written with a # symbol—is used to index keywords or topics on Twitter. This function was created on Twitter, and allows people to easily follow topics they are interested in."
Basic functions of a hashtag:
By adding "#" symbol in front of any word you create a hashtag.
If you click on a hashtag word you can see other posts that include that hashtag.
Hashtags that are frequently used become "trending topics".
You can use as many hashtags as you like in a post. They do count towards the character limit.
Example of a Tweet with hashtags:

Why do brands use hashtags on social media?
You've seen hashtags like "#ThrowBackThursday" and "FlashbackFriday" being used on social media A LOT. But before you disregard them as nonsense or mere content fillers, let's explore some of the reasons why hashtags are used in marketing:
Increase engagement with followers – Community managers often use branded hashtags when replying to comments. This helps to raise visibility and results in more engagement.
Build brand awareness – Brands create their own hashtags, which often include the name or tagline. Every time an influencer or follower uses branded hashtags, they're helping build more awareness.
Attract the right audience – By using relevant hashtags, brands can reach a specific audience based on their location, or interests.
Disclose ads and partnerships – Influencers are sometimes required to disclose brand partnerships by adding the words #ad, or #sponsored in the post.
When it comes to hashtags, there is some method to the madness.
It's not just a way of stuffing your captions with cool and trending words.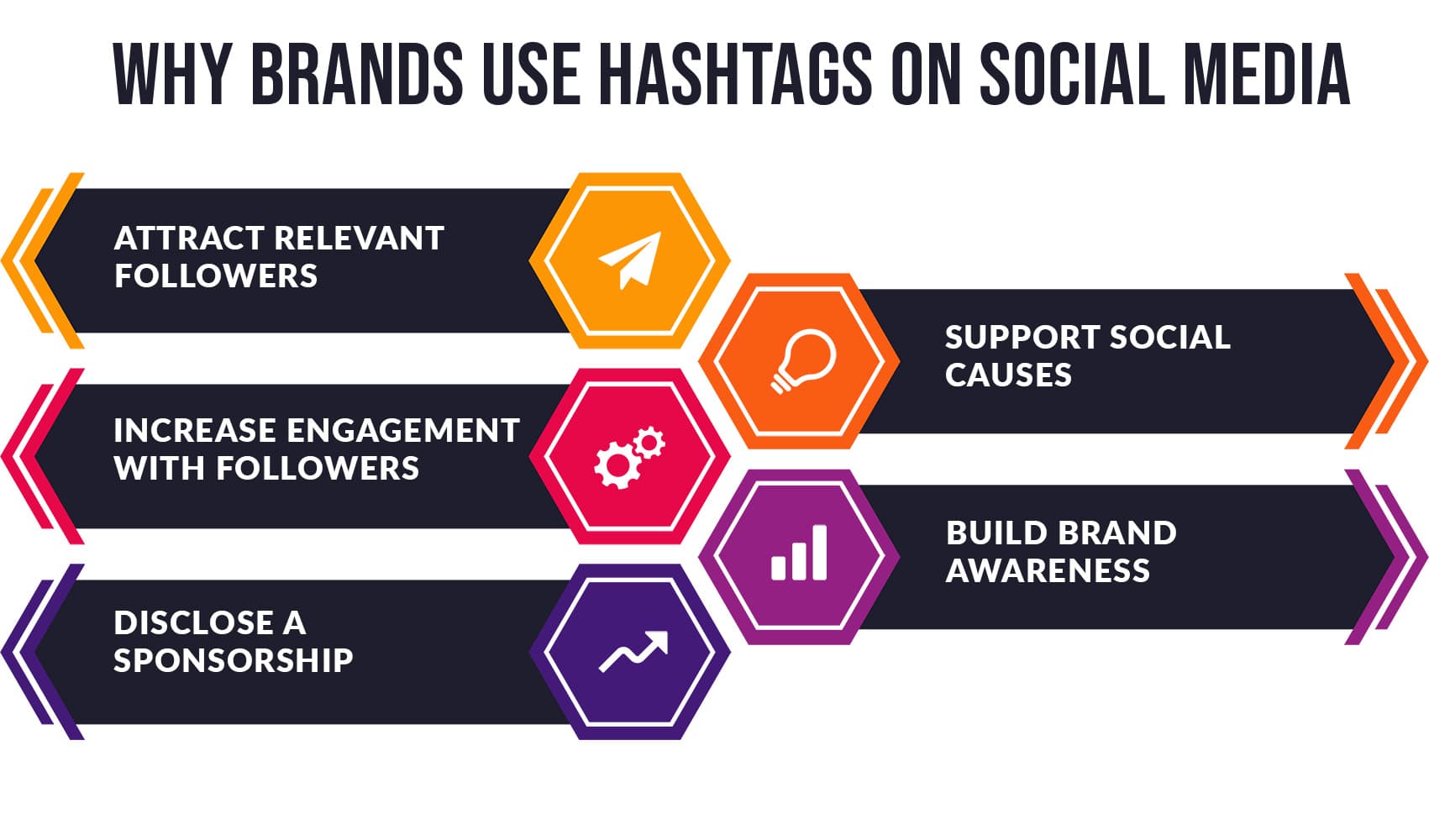 Want to know how to select the best hashtags for a social media campaign?
Check out our tips below.
10 tips for finding and using hashtags effectively on Instagram, Facebook, Twitter and LinkedIn.
Tip #1: Find popular business and industry hashtags.
Start by identifying keywords related to your business. You can find industry keywords using keyword research tools like Google Trends, which shows you topics that are trending and rising in popularity at a given time.
Tip #2: Create a list of relevant hashtags that are related to your niche.
Once you've identified some potential hashtags, you'll need to decide whether they're relevant to your brand or not. That's why you should group your hashtags into different topics and for different content purposes.
For example, if you're posting a promotional post, you can add those hashtags related to your industry. On the other hand, if you're sharing a personal story, you can use motivational quotes like #successstory or #mystartupstory.
Examples of hashtags for business:
Branded hashtags: #YourBrandName
Product hashtags: #MattressTopper #CoolingMattress
Industry hashtags: #Mattress #Bedding #HomeDecor
Campaign hashtags: #InvestInRestCampaign #GreatDealsForGreaterSleep
This will help you reach more people who are interested in what you have to say.
Tip #3: Use hashtags with the name of your location, city, or country.
Connect with people in your area by using hashtags with the name of your location, city, or country. If you're a photographer based in New York, you can choose hashtags that include your location so people looking for your services can find you easier.
Examples of location specific hashtags:
Industry + city = #PhotographerNewYork
Service + country = #CopywritingServiceAustralia
Tip #4: Monitor your competitors' hashtags
A competitive analysis will help you find what hashtags your competitors are using and which ones give the best results.
Study your competitors' social media platforms, and take note of:
How many hashtags do they use?
What are their best & worst hashtags?
Do they use branded, campaign-specific hashtags or generic?
Once you find potential hashtags, you can add them to your posts.
Tip #5: Find out what people are talking about using Twitter search
Twitter is a good place to find trending topics and keywords. That's because Twitter has a native hashtag feature that shows you which topics and keywords people are talking about in real-time.
So before you share a Tweet, check out what topics are popular.
Tip #6: Track your Instagram insights using an analytics tool
Instagram analytics tools like Pallyy and Iconosquare can show you which of your hashtags get more reach and likes. This helps you improve your hashtag lists and use better hashtags for your audience.
Tip #7: Find related hashtags on LinkedIn
LinkedIn's hashtag recommendation function helps you discover new and related hashtags. When creating a new post, click on a suggested hashtag to find more recommendations.
Tip #8: Use the best number of hashtags for each social platform
When scheduling content to multiple platforms, it's easy to overlook that hashtags work differently. For instance, Instagram allows you to add up to 30 hashtags in a caption, but that would be too much for Twitter where your characters are limited. Also, using too many hashtags doesn't always help you to get more reach.
Here is a summary of the best number of hashtags marketers recommend for each social media platform:
Instagram: 3-5
Facebook: 1-3
Twitter: 1-2
YouTube: 3-5
LinkedIn: 1-5
Sources: Hootsuite, Hubspot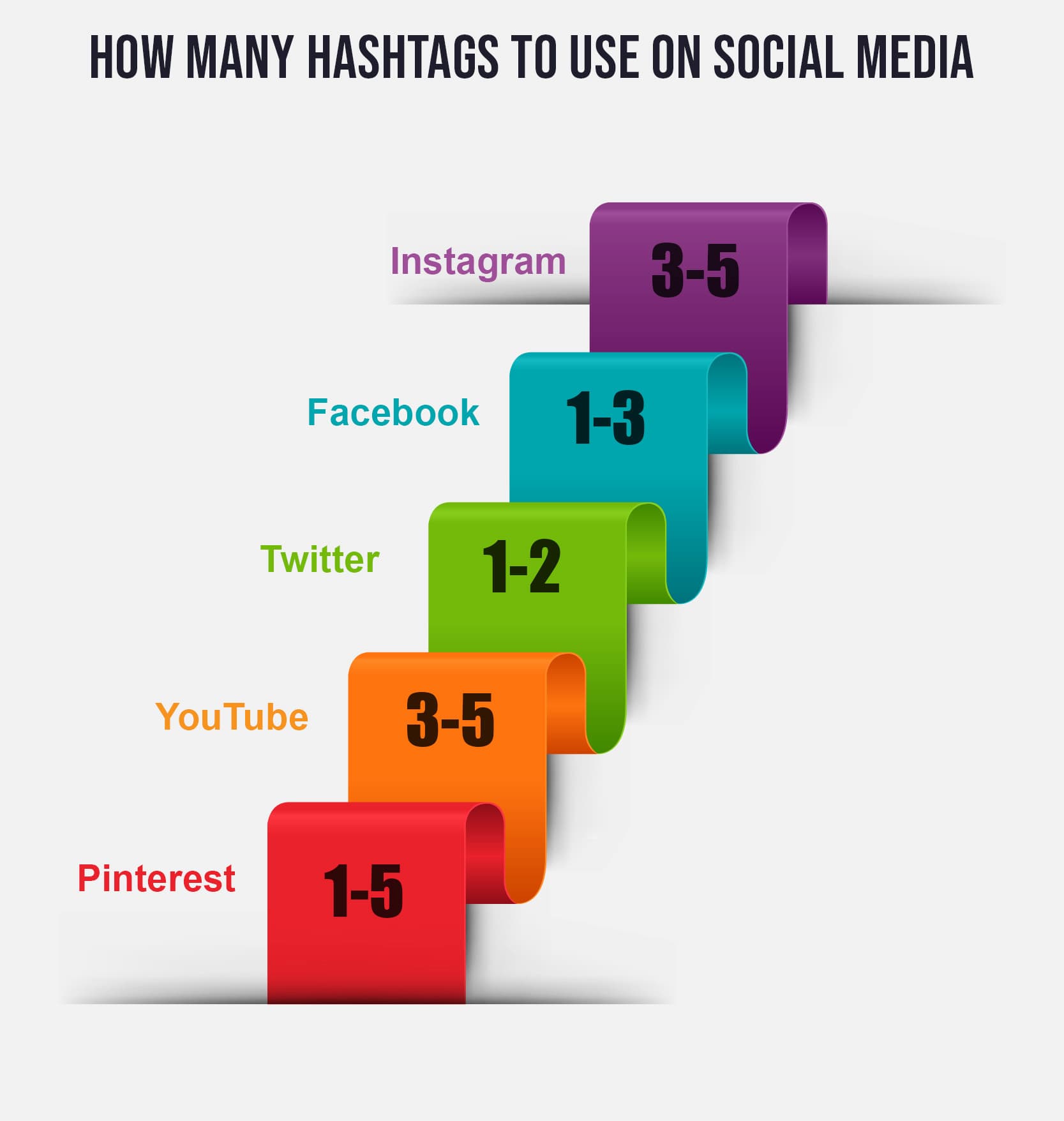 Tip #9: Avoid using banned hashtags on Instagram
Instagram has a list of banned hashtags. These are hashtags that users have reported because the posts go against Instagram community guidelines, including nudity, violence or spammy content.
What happens if you use banned hashtags?
You should avoid using banned hashtags for a few reasons:
Your posts will be hidden and people will not be able to find them unless they visit your profile.
Banned hashtags get lower engagement and restricted visibility
Repeated breaches of Instagram's guidelines may get your account deactivated.
What hashtags are on the banned list?
While you'd expect to find hashtags like #milf and #nudity on the banned list, there are other hashtags like #dm or #beautyblogger that have been flagged by users for attracting a high number of spammers.
Check out the list of banned Instagram hashtags in this post.
Tip #10: Don't like showing your hashtags? You can hide them.
If you like to keep your captions clean and aesthetic, you should avoid stuffing a blob of hashtags in your post. Instead, do this:
Incorporate hashtags in sentences by replacing words with tags. This method makes your caption look neat and hashtags feel like they serve a purpose.
Hide your hashtags in the caption by adding vertical dots "…" after your text. Why does this work? Because Instagram will truncate your captions and the hashtags will stay hidden at the bottom of your main text.
Finally, you can leave your hashtags completely out of your caption, and paste them as a separate comment. A first comment is good practice to use on many social platforms.
---
We also have API endpoints to help you auto generate hashtags for social media or get recommended hashtags.