How To Share a Podcast on Instagram
How do you share a podcast on Instagram? You can't directly upload an audio file to Instagram stories or a feed, but there are ways to easily share your latest podcast episode, such as an Audiogram.
When Instagram was launched in October of 2010 it was already several steps beyond the older social media platforms like Facebook and Twitter. First, it wasn't built for use on a desktop computer. Creator Kevin Systrom developed it for the burgeoning mobile device sector.
Second, it didn't rely on long strings of text. Instead, Systrom created a photo and video-sharing social media outlet. Instagram's concept was so popular that the initial release garnered over a quarter-million users on its first day.
A Decade In
Over a decade later, the original concept for Instagram remains strong. It's also a moneymaker. To the point that Facebook purchased the app for $1 billion in cash and stock in 2012.
It has also garnered "copycats." Social media platforms Snapchat and TikTok have taken Instagram's image-based concept and expanded on it. Still, millions of users flock to the original as a daily ritual.
Progress And Podcasts
Yet, a company like Instagram can't survive without some changes, albeit small. One of the things they've done is allow other forms of media on their site, such as videos. But alas, one capability they are missing is "share your podcast episode" either as an Instagram story or as a regular feed post.
Granted, the platform doesn't allow you to post an entire audio recording on your feed. However, through its processes and third-party tools, you can promote your podcast on Instagram. With audio, proper links, and hashtags, you have the power to reach new fans.
Here are the steps to post your podcast on Instagram.
Check Out Other Podcasts on Instagram
Before you work on your feed you should examine other podcast profiles on Instagram. Why? Understanding what others have done is a fantastic way to find new ideas on podcast promotion, converting your podcast episodes to sharable content (see below), and how to find a wider audience.
Remember not to copy others outright, but add your own twist for your niche.
Select An Audio Snippet from Your Podcast
You probably worked long and hard on your hour-long podcast episode and want to share it with the world via your Instagram feed. Before we get into how, you need to first cut down your audio to 60 seconds if sharing on your feed or 15 seconds if an Instagram story. Instagram only allows video, which we'll be creating, of those lengths.
The snippets, or podcast clips, could be a summary of the podcast or an important piece of an interview. For instance, take something that could be considered a quote or a brief attention-getting statement taken.
Create an Audiogram
Now for the fun! You'll be creating an Audiogram by converting your audio snippet to a video so it can be shared on Instagram. What is an Audiogram? It is a combination of visual art, a sound wave, an audio track, and, possibly, a transcription of the dialogue.
With this Audiogram video, you can share your podcast to Instagram stories, Twitter, Facebook, and any other social media you like.
Here is an example of WNYC's Audiogram: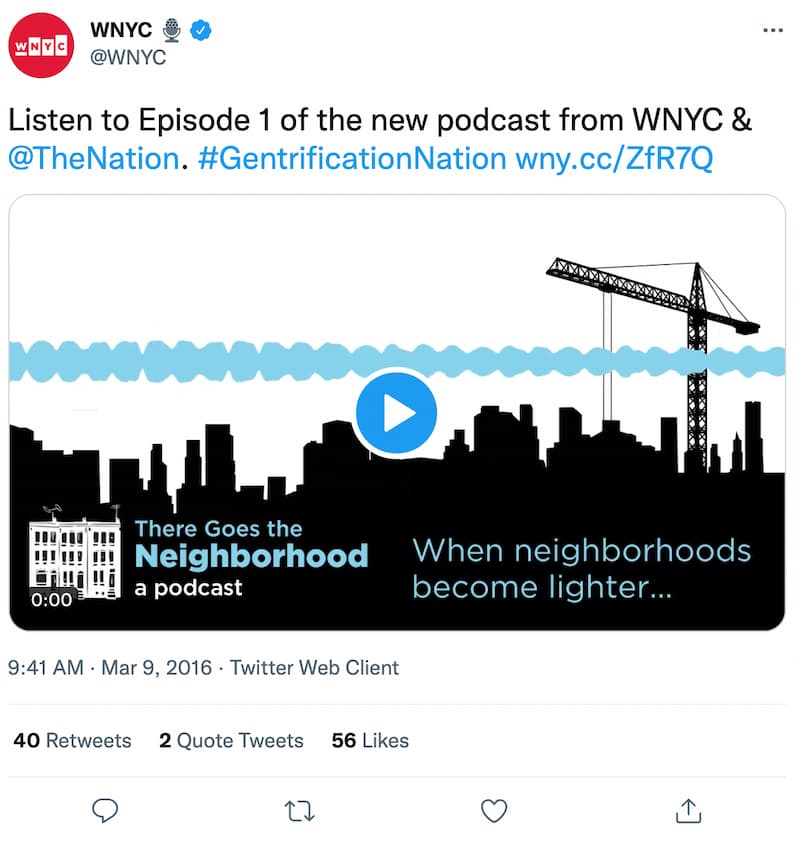 Best Open Source Audiogram App
The first option for creating an Audiogram is using open source code created by New York Public Radio (go WNYC!). It is written in Node.js and you can easily make videos using a mp3 or wav file, a background image, and text and share as an Instagram post.
"Our solution to this problem at WNYC was this library. Given a piece of audio we want to share on social media, we can generate a video with that audio and some basic accompanying visuals: a waveform of the audio, a theme for the show it comes from, and a caption."
Best Paid Audiogram Apps
There a many paid app options to create an Audiogram:
Wavve.co has a great UI and capabilities for Audiograms. Their pricing is reasonable with a free option.
With an eponymous name, Audiogram has a boat-load of templates to choose from. Their pricing has fewer options than Wavve, which I find makes the choice easier.
Headliner's is the most well known and has a strong transcription service. Their pricing is also the cheapest option.
Insert the Podcast Link In the Post
Even though you can't post your entire podcast, you can still put the download link in the body of your Instagram post. This will allow your followers to get the full episode by clicking your link.
And, of course, have an awesome description of what your podcast is about with relevant hashtags.
Utilize Hashtags
Through all of these steps to post your podcast on Instagram, you can't forget to utilize hashtags. This is how you reach like-minded communities on the social media platform. They should be a mix of podcast-related data and items related to the guest or topic.
For example, the top five podcast hashtags on Instagram in 2021 are below. You should use your own as pertains to your podcast.
Add hashtags in two places. If you want to go beyond three or more, then include them in the first comment after the caption. While Instagram allows 30 hashtags per post it's recommended to try and keep it under that value to prevent from being flagged as spam.
In the end, while your entire podcast isn't available to post on Instagram there are several ways to promote it. This is through audio snippets turned into Audiogram videos, extensive information in your bio, and the right hashtags. Through experimentation, you'll find the right formula to draw in new listeners and admirers.