The Definitive Bubble Review: A Flexible No Code App Builder Growing Over 50%
An In-Depth Review of the No Code App Builder Bubble.io
No code app builders are all the rage in application development and have been gaining significant traction in the market. These powerful tools allow you to quickly build applications, web apps or mobile apps, with minimal or no coding skills. This review gives an in-depth overview of one of our favorite no code app builders: Bubble.io.
The World of No Code
The world of no code is vast; it ranges from Mailchimp for email automation to Zapier connectors to Airtable sheets.
App development is a particular type of no code, and we have spent considerable hours testing and reviewing the app development capabilities in Adalo, Thunkable, AppGyver, and many other no code app builders. The one that we often come back to when we need to spin up a new app quickly is Bubble — often referred to as Bubble.io or Bubble IO, and formerly known as Bubble.is. It is a flexible no code app builder that has been growing over 50%.
History of Bubble
Bubble was founded in 2012. The company crossed 250,000 users and $1 million in revenues in 2017. They raised $6.25 million from seed investors in 2019, and an additional $100 million in venture funding in 2021.
According to Similarweb, Bubble.io gets about 2.1 million visits per month, measured from June to August 2021. Alexa ranks bubble.io as the #3,323 most popular website on the internet globally as of mid October 2021.
Traffic to Bubble.io is up over 430% since in 2021 versus the comparable 2017 periods according to our analysis using Google Trends data. That is a compounded growth rate of greater than 50% over the past four years.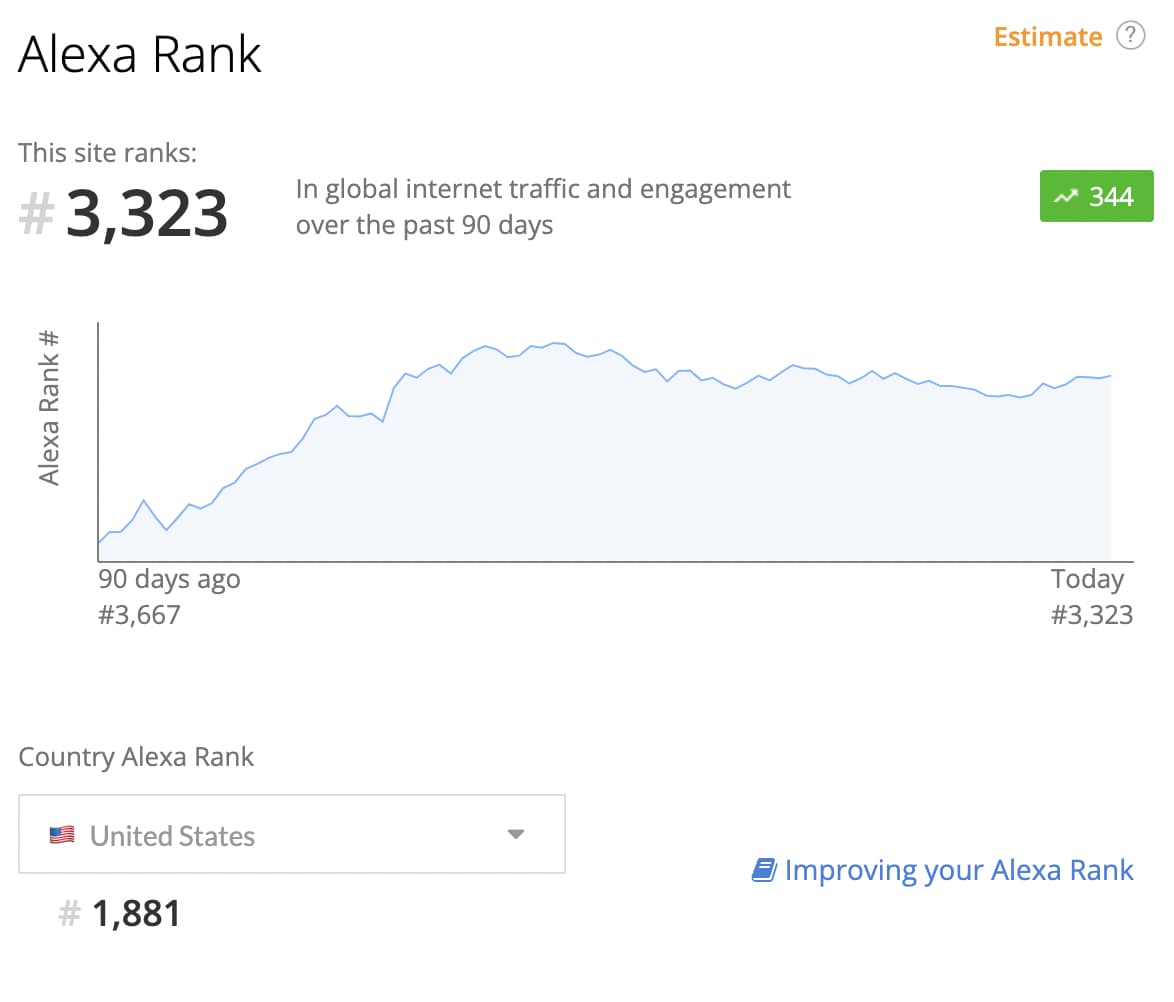 Bubble was one of the early entrants in the no-code app builder market, and it shows based on how advanced the system is. Bubble has a full front end-builder combined with a database, plugin marketplace, advanced API integrations for both connecting to 3rd parties and for incoming calls, and support for large development teams. All this without the need for writing code.
Is Bubble worth learning?
We have many Bubble clients, so we get to see how real businesses are built on Bubble. While many other no code tools in the market let you build attractive content-focused sites like directories, blogs, and landing pages, Bubble is one of the few that excels in custom user workflow building.
Workflow building is a critical part of building a feature-rich and creative app. So when comparing Bubble to other tools, consider what kind of app or website you need and how easy it will be to build software using the tool.
If your objective is to research and collect information and put it in an attractive online repository, there are simpler options like Airtable or Glide. If you want to build a blog, then no-code content management systems like WordPress or Webflow are great options. All of these tools have free plans and will let you turn an idea to a fully functional app very quickly.
If you want your users to do more advanced workflows like create accounts, create social media posts, manage projects, message other users, post jobs, share recipes, create real estate listings, or display analytics, then you need a more flexible app builder system.
Bubble lets you build a fully functioning app that has few limitations in realizing your creativity in your own app.
Bubble Versus Traditional Development
Traditional methods of bringing a new software product to market requires hiring software developers to write code. If you don't have your own development team, then finding agencies or freelancers will be the first step after you pin down a budget.
Using Bubble, an entrepreneur, founder, or product manager can immediately start building and testing without needing to explain the product to others, and without the need for much capital. Turning an idea into a fully functional web app with a no code tool like Bubble can be done in hours.
Instead of writing code to build the components and logic of a web app, Bubble lets you use a drag and drop interface to create the functionality you need. With a click and a drag, you can add an input field, a checkbox, a button, a search box, a date/time picker, and much more.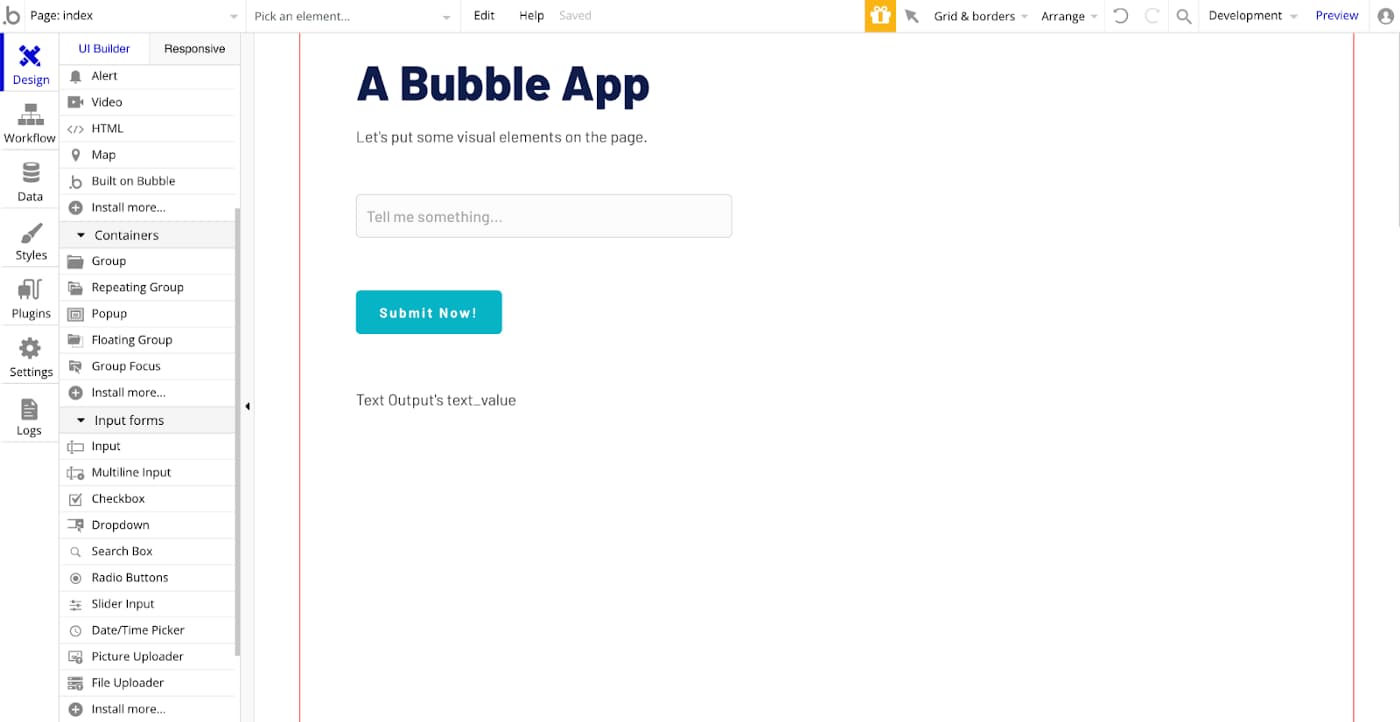 If this sounds too good to be true, then remember that once you launch and have paying users, then iterating on your app with Bubble can be just as time consuming as coding. And if Bubble does not support your unique requirement, sometimes you can't build a feature or improve the app's performance; even when it would be possible if you had the ability to edit the code directly.
This is a challenge with all no code platforms. The limitations of the platform define the limitations of what you can build. We find that most of the other no code app builders have more limitations than Bubble so, relatively speaking, we do not consider this a shortcoming of Bubble.
Is Bubble secure?
Bubble is built on the Amazon AWS cloud infrastructure, including S3 for images and videos, which allows for Bubble to leverage advanced security capabilities. Other companies that build on AWS include Netflix, Liberty Mutual, Robinhood, Slack, and Hess.
Bubble apps come with point-in-time data recovery which lets you recover your own data from a previous time. This is a great capability that can save you serious heartache if you break something or deploy a feature that impacts your data in a negative way.
Other features that help with security include detailed logging to research issues as they come up, and user-defined privacy rules to manage access across teams.
Does bubble do mobile apps?
It is natural to start thinking about a mobile app at the same time as you think about building your desktop web app. Much of the world is now mobile-first, and some research shows that most internet users will be mobile-only in the next few years. The fact is, all your new users want mobile access.
Unfortunately, this is one of the most notable shortcomings in the Bubble platform. The web app that you build with Bubble will work great in a mobile browser as long as you focus on a responsive design. But you can not build a mobile app that you can submit to the iOS App Store or Android Play Store.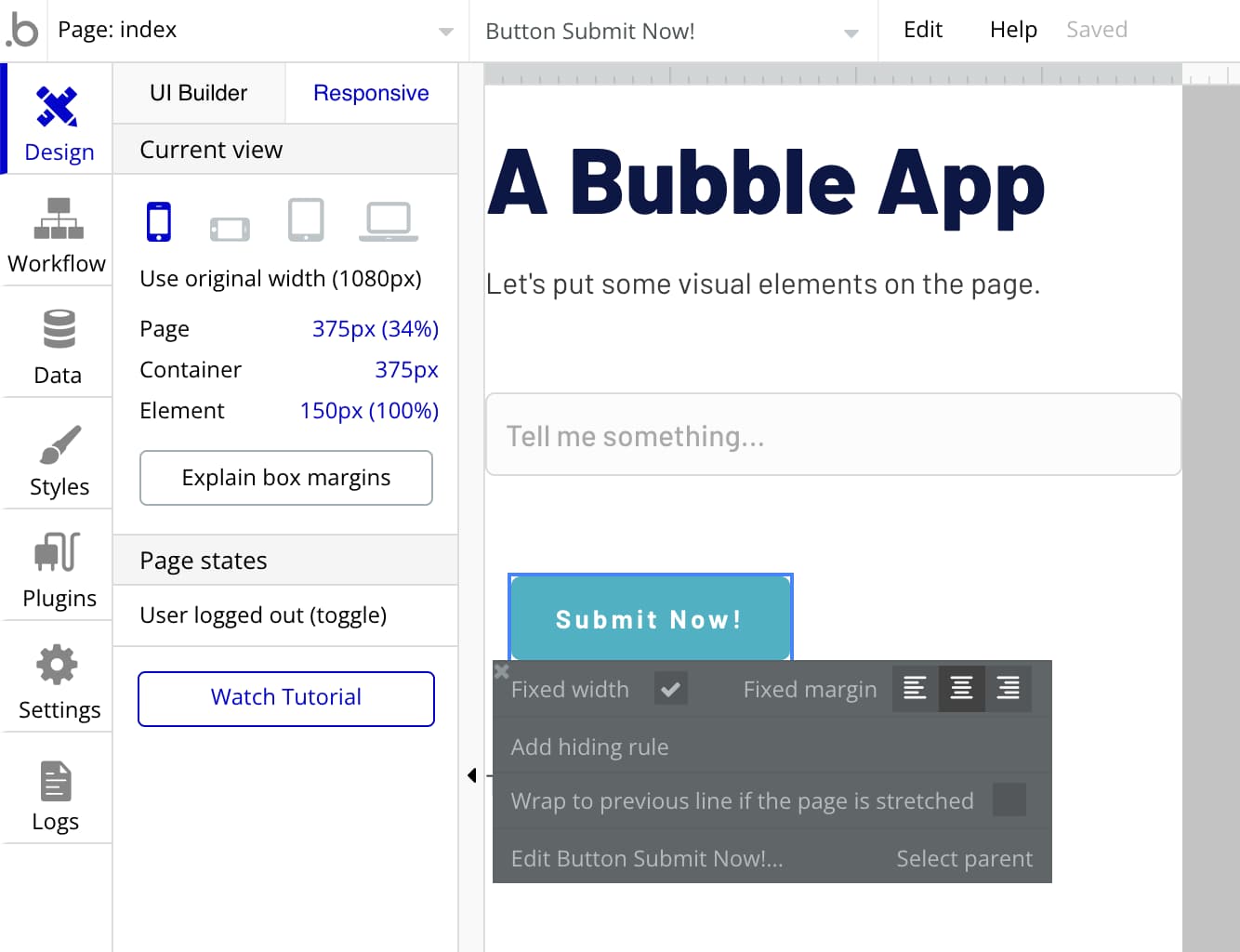 There are third party services which can help convert your web app into something that can be submitted to the app stores, but these are usually wrappers for your web app (often known as hybrid apps), and do not convert your web app to a native mobile app. Although hybrid apps can suffer from an inferior user experience versus a native mobile app, they can still address a real business need, especially in niche markets where there are few alternatives.
In short, Bubble will not enable you to create a native mobile app, but you can leverage your Bubble work on your mobile app journey.
How do I make a bubble app?
Some great resources to check out include the Bubble Get Started article and our tutorial on how to build a custom app in Bubble for social media scheduling.
There are four primary components that are worth learning when starting to use Bubble:
The first is the great drag and drop interface for laying out the components of your app visually.
The next is the Bubble Workflow Builder that lets you create the workflow logic – i.e. when the user clicks the blue button, then certain data is saved and the user is then navigated to a different page in the app.
The third component is the database which is included in the platform. This database is somewhat limited versus using a third party service SQL or NoSQL database provider. But it is integrated and easy to use. This makes it the default choice and lets you get up and running quickly with sophisticated database-driven workflows like user login and media content management.
The fourth is the Bubble API Connector. This is a plugin made by Bubble which extends the core platform with the ability to connect to any external API. The API Connector is extremely useful when you want to connect to other services for capabilities such as sending emails, posting to social media, or saving content to a storage provider. The API Connector is both simple to use and very flexible – one of the major advantages that Bubble has over other no code app builders.
If this sounds intimidating, then rest assured that Bubble has solid and comprehensive documentation for every feature in the platform.
Dragging and Dropping
The Bubble drag and drop interface is clearly laid out, intuitive, and very responsive. The list of controls that you can use is in the left bar. Just drag the element from this bar into the body of your app and the control's settings will pop up in a dark grey container. Here you can change the name, style, and most importantly connect it to workflows that make your app come to life.
Workflow Building
The workflow building is in the Workflow tab in the left bar. Every workflow starts with an event such as a button being clicked, a user logged in, or a page is loaded. Once that event happens, you can define an action like saving data, or navigating to a page, or triggering an API call.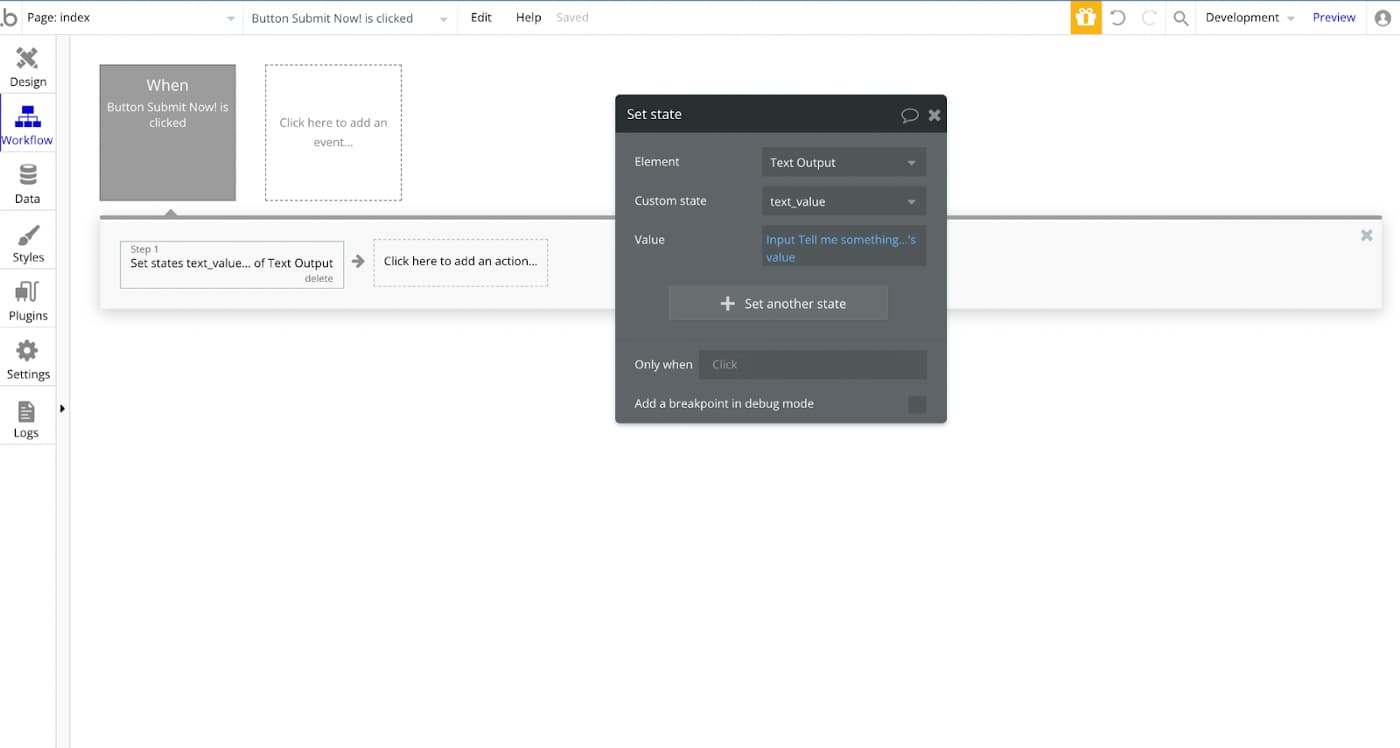 The Bubble Database
In the Data tab in the left bar, you can access the integrated database system. The logic that Bubble uses is that there are Data types (equivalent to tables) which have fields. You can add a new entry into a Data type as by entering a value for each field.
Bubble made some great improvements over the years to allow files and other types of media to be uploaded directly into this database system. This allows you to build an app without having to think about file storage and image storage which can get complex with third party cloud providers.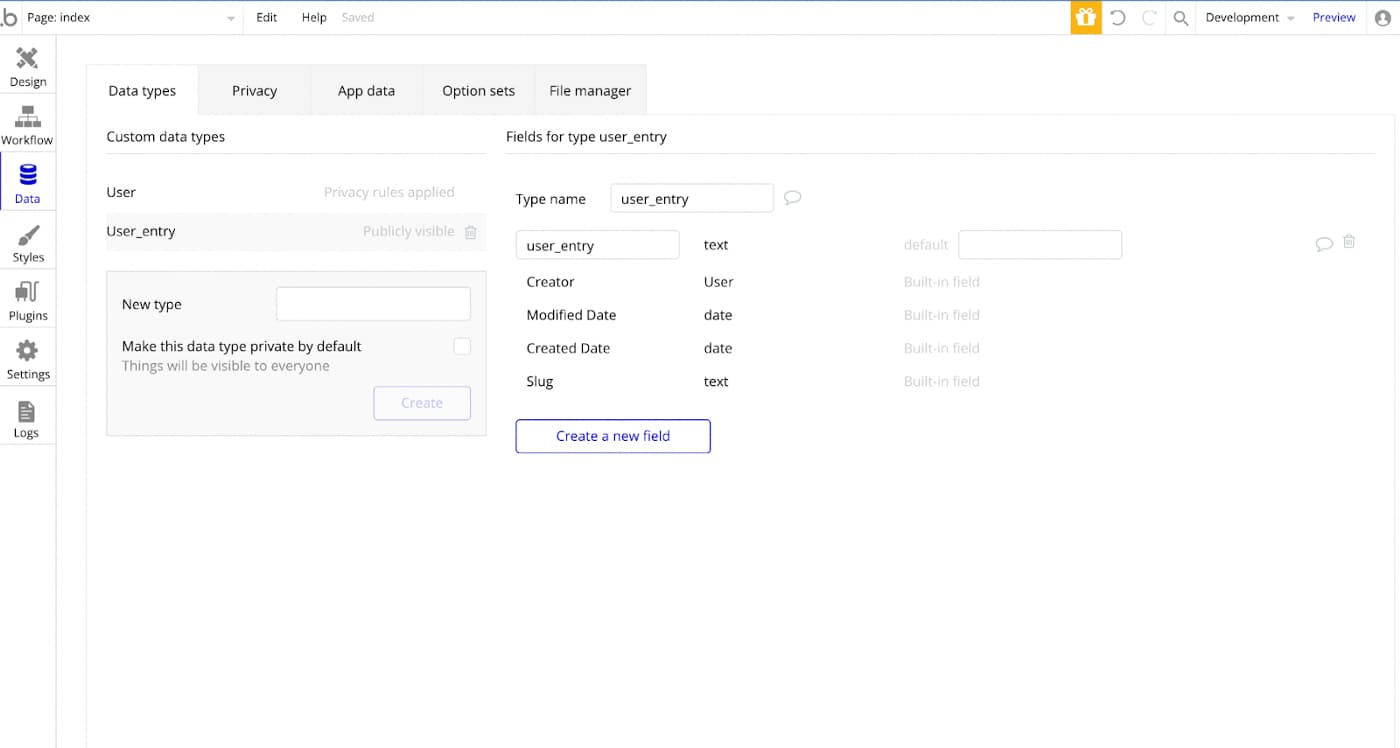 The API Connector
The API Connector is technically a plugin that is available in the plugin marketplace. In our experience, you will want to install it as soon as you start a new app. This plugin lets Bubble developers connect to any API as part of the app workflow. Just add your credentials for authentication and some parameters and you will be pulling in data, sending content, and adding other new features via external APIs in minutes.
The API Connector is intuitive, stable, and very powerful. It really helps Bubble stand out in the competitive space of no code app builders.

Documentation
Bubble offers both written and video resources to help you make an app. The docs are well written and detailed when you need them. There are also videos and interactive tutorials which we recommend that all beginners work through selectively.
Bubble Plans And Pricing
Bubble offers a free plan and three tiers of paid plans. The free plan allows you to build an app and learn the Bubble system in detail. But you can not publish a live app, and comes with numerous other limitations such as no custom domain, Bubble branding, no external API, no data backups, limited logging, limited file storage, and no direct support.
The Bubble pricing for the paid plans varies based on capacity needs, storage needs, and the number of team members who can be app editors. The bubble cost ranges from $25 per month to $475 per month if you pay annually. The monthly price range is $29 to $529 if you don't want to make an annual commitment.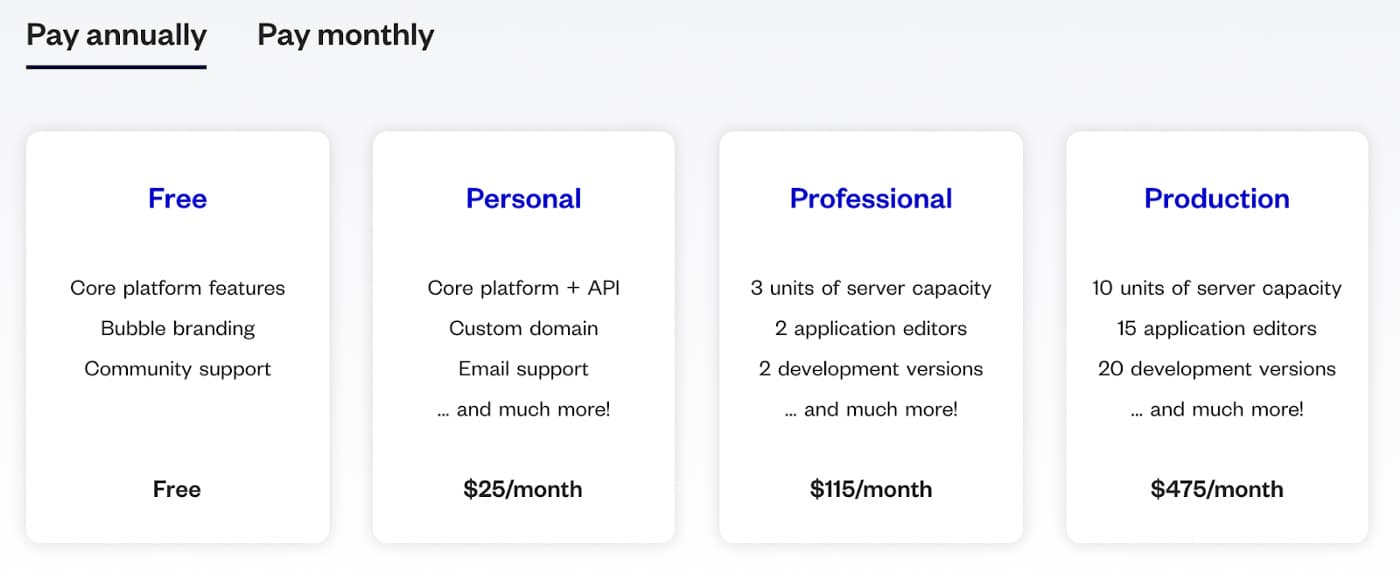 The Plugin Marketplace
The Plugin marketplace is a great way to extend beyond the standard features that Bubble offers. In the world of coding, there are many open source and commercially available SDK packages that developers use to extend their apps. The Plugin marketplace plays the same role for Bubble developers.
For example, if you want to add charts to your app, there are over 30 plugins you can choose from. Prices range from free to $9 per month. Or you can buy most of the plugins for a one time license fee generally in the range of $10 to $200.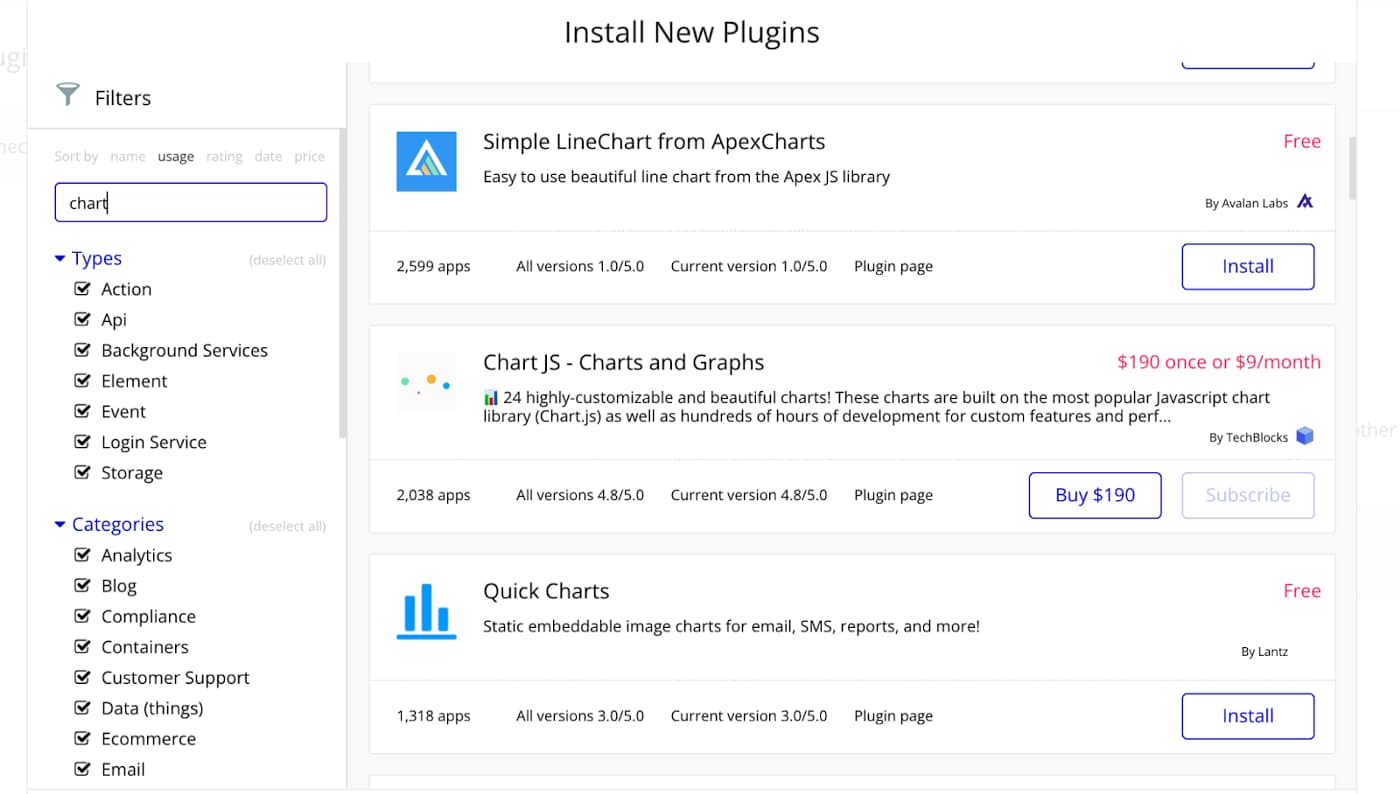 Bubble has the richest plugin marketplace of all the no code app builders we have worked with. It's worth searching through the marketplace when you start your app to see what kind of capabilities have already been built by others that you can leverage.
Conclusion
Spend a week learning Bubble, and a week building your app, and you will be amazed at how much you can accomplish. Bubble also has a vibrant community which is very active on the Bubble forum. There are always folks ready to help you get unstuck.
With one of the most flexible no code workflow builders, combined with a great API Connector, we believe that Bubble should be near the top of everyone's list of no code app builders.